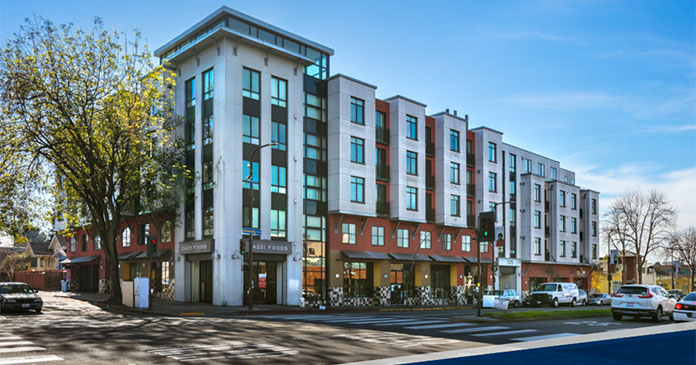 Avanath Capital Management, LLC, a private real estate investment manager and Registered Investment Adviser, has acquired Acton Courtyard, a 71-unit mixed-use Affordable housing community with 7,013 square feet of ground-floor retail, located in Berkeley, California.
The transaction is Avanath's ninth acquisition in Northern California and its second in the Oakland MSA.
"Because we have a significant history of investing in Affordable housing communities in Northern California, we have a deep understanding of the market which informs our approach to management," says John R. Williams, President and CIO of Avanath Capital Management. "Northern California has continued to demonstrate quality fundamentals and remains a very attractive market. In fact, future job growth in Berkeley over the next 10 years is anticipated to increase by 36.3 percent."
Avanath focuses its investment activity on markets throughout the country where affordability is low, and the housing market is underserved. Home prices in Berkeley and surrounding cities have been surgingover the last year due to exceedingly low interest rates, unprecedented post-pandemic demand and a large number of affluent buyers. Average household income in the market is approximately $130,000, with unemployment in the general region at 6.7 percent as of June, down from 7.3 percent in January, which conveys a high-quality renter pool, Williams notes.
"Berkeley, which is home to one of the most highly educated workforces in the country, continues to generate high-wage jobs and is becoming a more attractive place to work and live," says Williams. "As the submarket is home to the University of California Berkeley, a major employment and economic center, and one of the nation's largest tech and innovation hubs, housing is scarce and rental rates are climbing. This makes our investment in quality Affordable communities like Acton Courtyard all the more impactful."
Comparable to the Affordable housing sector as a whole, vacancy at the property has been low during the pandemic, Williams points out.
"Acton Courtyard has maintained a 96 percent occupancy rate throughout the COVID-19 crisis, which demonstrates the stability of affordable communities regardless of the economic climate," says Williams.
Built in 2003, Acton Courtyard consists of one five-story building containing four studios, eight one-bedroom units, 58 two-bedroom units and a manager's unit.
In-unit amenities include balconies with city views, maple shaker cabinets with brass hardware, laminate countertops, dishwashers, microwaves, gas ranges, built-in bathroom shelving, ceiling fans, spacious closets, and cable and internet included. Common-area amenities at the pet-friendly community include a rooftop deck with expansive views, a large courtyard, laundry facilities, underground and assigned parking, car lifts, and controlled access.
Ground-floor retail tenants at the community include SignCo USA, International Academy of WingChun, CC Made and Café Fanny Organic Granola, a Verizon equipment facility and the property leasing office.
The property was developed with tax-exempt bonds and subject to the City of Berkeley's Inclusionary Housing Program. The bonds were retired but the property is still subject to restrictive covenants from the bond issuance as well as those associated with the City of Berkeley development requirements. The restrictive covenants designate maximum income levels for residents at the property.
The property, which boasts a walk score of 93, is located a short walk from public transportation, approximately 1 mile west of the UC Berkeley campus, 1 mile from Downtown Berkeley, and within easy access of daily-needs retail, innovative restaurants, and cultural and lifestyle amenities.
"Residents of Acton Courtyard have access to the nearly 2.5 million jobs San Francisco has to offer, as well as the nearly 1.3 million jobs located in Oakland, Berkeley, and Emeryville, including some of the most profitable and innovative technology companies in the world," says Williams. "The community's transit-oriented location is particularly advantageous as it quickly and easily connects residents to the surrounding Bay Area."
Avanath plans to implement a variety of capital improvements to the community that will benefit residents and enhance the property's value while allowing rents to remain at a healthy discount to market-rate units, Williams notes.
Acton Courtyard is located at 1370 University Avenue, Berkeley, CA 94704.