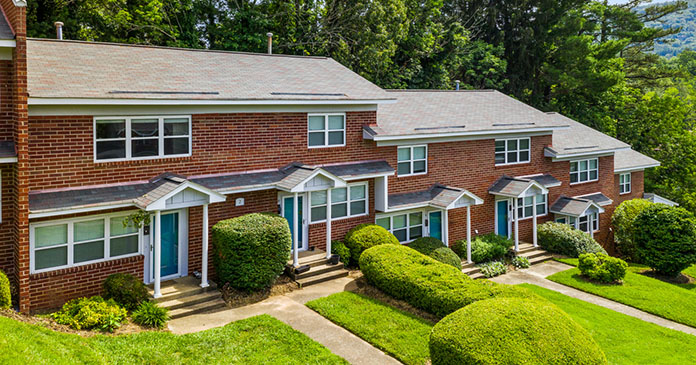 Beach Investment Fund LP, through its manager, Beach Real Estate Funds (BREF), both affiliates of The Beach Company, announced the July 29 acquisition of The Northside at Merrimon (Northside), a 166-unit garden-style multifamily community in Asheville, N.C. The transaction represents the fifth acquisition in the Beach Investment Fund and its third in North Carolina.
Originally built in 1948, the stabilized property features 166 units averaging 876 square feet and an amenity package that includes outdoor lounge areas, a fitness center and dog park. Property highlights include a vintage-style motif with community gardens, original hardwood floors and townhome-style dwelling units with private patios.
"Northside's central and irreplaceable location really sets this community apart," said Darby Parker, acquisitions manager for BREF. "The nearby UNC Asheville and The Omni Grove Park Inn bring immediate demand, while proximity to downtown and the increasingly diverse employment nodes provide a runway to long-term success."
BREF intends to complete a robust interior and exterior renovation program with updated interior finishes and an improved amenity offering.
"Northside is well primed for an improvement plan that should really maximize the potential of the property," said Teddy Hendricks, BREF's director of asset management. "We're excited about the opportunity and have been working diligently to ensure our planned capital program best emulates the unique culture and atmosphere that Asheville has to offer."
"Ashville has been on our radar for some time. The growth story has been incredible and appears to have only accelerated with the macro events of the past 18 months," said Leonard Way, BREF's senior vice president and fund manager. "We look forward to beginning our renovation program and improving the asset to the betterment of both our tenants and investors."
John Munroe, Sean Wood, Alex Okulski, Dean Smith, John Heimburger and Jason Kon and of Newmark's Carolina's team facilitated the sale on behalf of the seller, Hawthorne Residential. BREF's acquisitions team of Darby Parker and Niko LeVigne facilitated the transaction on behalf of the buyer. Newmark's Brian Kochan and John Westby-Gibson placed the agency financing.