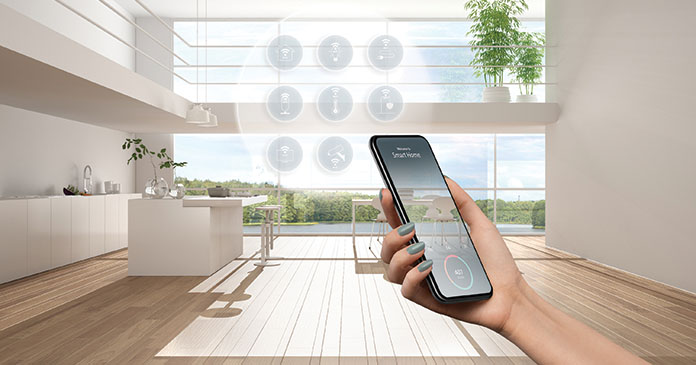 Tampa's iApartments, armed with at least a $10 million investment, seeks to capture a niche in the smart home market by specializing in multifamily buildings.
There was a time, not too long ago, when the term smart home conjured up memories of the gadgets seen on cartoons back in the early 1960s and Walt Disney World's vision of the future circa the 1980s.
While some of those gadgets have come to life—no flying cars yet, but we carry computers in our pockets and have conversations on video screens—the reality is the tools that turn a home into a smart home do simplify life for many people without completely altering the world we live in.
They make them safer. They make them more comfortable. They create an ease.
The other things smart homes do is make money for people who sell and install the technology.
One Tampa company is among those now in the business of safe homes—but its approach is a little different.
iApartments was started by veterans of both the tech and multifamily industries.
What the company does is right in the name: it works with owners of multifamily dwellings to install features like smart thermostats, smart locks and sensors in individual units and throughout apartment buildings. These are operated through a all-in-one thermostat smart hub that controls locks, lighting and switches and is operated with a smartphone.
The idea for iApartments came from Dave Magrisso, who previously founded a company called Valet Waste. What Valet Waste did was offer concierge trash service to apartment buildings. People would—and still do—put their garbage outside their apartment door each night and it would be picked, minimizing trips to far off dumpsters. Magrisso sold the company in 2006 and it is now known as Valet Living.
A couple years ago Magrisso was hearing a lot of buzz about smart homes. So he reached out to friends familiar with multifamily complexes and former customers to see what it was all about. "He is a salesman's salesman," iApartments Chief Product Officer Steve Fiske says, "so he just started trying to find what the true need was."
What Magrisso found is people all over the industry were saying smart home technology in apartments was the wave of the future and that, eventually, every apartment would come equipped with it.
The next question, says Fiske, was as obvious as it was providential.
"He would follow it up with, 'Oh, when are you implementing it?' and 'Oh we're not' would always be the response."
Fiske met Magrisso when Magrisso was thinking about how he could get into the business. The two were working with start-up incubator Tampa Bay Wave at the time. he says coming together with Magrisso was "serendipitous."
Fiske, was a founders of Unikey, a smart lock company that gained national attention when it received funding on the television show Shark Tank in 2012.
Fiske says in the early days, Unikey worked with other smart home companies—including Nest and Ring—and tested pilot programs in apartment buildings. That experience, he says, taught him about some of the pitfalls and challenges.
"When he and I met it was very fortuitous. We were kind of able to fill in the gaps around that model and really build it out," Fiske says of Magrisso.
The company's third partner is Mohammed Syed, its chief technology officer.
iApartments was founded in 2019. Fiske says the company's business model is built on being able to retrofit buildings, making it cost effective and turnkey for owners and management companies.
Fiske declines to disclose how much investment money the company has received thus far but did say "we have raised an eight-figure seed round through, primarily, strategic investors."
Company officials say the goal is to have commitments for more than 200,000 apartments in the next few years.
The space is there to grow. According to iApartment, less than 2 percent of apartment buildings are equipped with smart home technology.
To reach its goals, and as part of its natural desire to grow, the company recently named Scott Stamilio chief revenue officer. Stamilio has experience in multifamily sales as part of ePremium Insurance.
Fiske says the company is currently in discussions with building owners and management companies nationwide.
"We've essentially been flying under the radar so we're finally coming more out to the market," he says. "But we've been heavily selling for the past two years."
---
Excerpt Louis Llovio, Business Observer