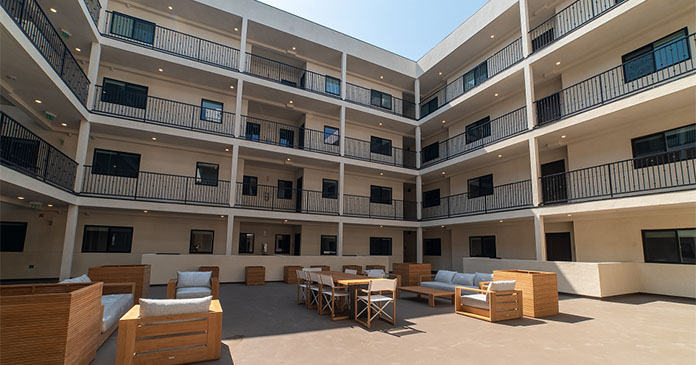 Trion Properties, a private equity real estate firm based in West Hollywood, California and Miami, Florida specializing in multifamily investments, with joint venture partner Ketter Construction, has announced the completion of Olivia Apartments, a 45-unit luxury multifamily development with 10 percent of the units designated affordable. The property is located in the Mid-Wilshire neighborhood of Los Angeles, California.
The development demonstrates Trion's ability to deliver high-quality apartment units to a severely supply-constrained market with significant barriers to entry, according to Max Sharkansky, Managing Partner at Trion Properties.
"This was the perfect opportunity for us to complete a new development in this highly desirable area that offers greatly needed luxury and affordable units," explains Sharkansky. "By leveraging our deep connections within the Los Angeles multifamily industry, we were able to secure a rare opportunity to acquire a land parcel in a high-growth area to develop the property, with entitlements and permits for multifamily development in place. With this project completed, we will lease up, stabilize, and operate the development, enacting our proven vertically integrated property management platform that has proven successful for us time and again."
The delivery of Olivia Apartments at this time exemplifies Trion's strength in completing projects even during a global health and economic crisis, Sharkansky points out.
"We focus on markets that are positioned for resiliency in all economic climates," says Sharkansky. "As we approach these markets, we utilize strategies that set us up for better stability. For example, while we experienced some construction delays due to COVID absences, we were well positioned to offset most of these challenges by ordering materials in advance. We were fortunate that the project's timeline was preserved and we avoided considerable delays from supply-chain back-ups."
Olivia Apartments' Mid-Wilshire address offers a high quality of life and central Los Angeles location surrounded by highly affluent submarkets including Beverly Hills, Century City, and Miracle Mile – which will become even more competitive once new transportation lines are completed – and is also in close proximity to other attractions and employment, according to Mitch Paskover, Managing Partner at Trion Properties.
"Our deep understanding of the L.A. market enables us to pinpoint submarkets that offer residents all the benefits of the pricier neighborhoods at a reduced cost," says Paskover. "Olivia Apartments is only a mile away from the Wilshire/Fairfax Metro station, set to open in 2023, which will connect residents to major markets from Downtown Los Angeles to the East and Westwood to the West. The development is also a mile from the Interstate 10 freeway and a quarter mile away from Fairfax Avenue, Crescent Heights Boulevard, and Pico Boulevard – three main L.A. thoroughfares. It's difficult to find a better location for a new apartment community that offers upgraded luxury living at a lower price point to adjacent submarkets."
Olivia Apartments features two- and three-bedroom units, each designed in a Modern Spanish style with in-unit stackable washers and dryers and smart-home technology including Nest temperature control and Bluetooth locks. Common amenities at the pet-friendly property include a full gym, recreational room, and Luxer One package lockers.
Olivia Apartments is Trion's second development completed in partnership with Ketter Construction. In 2019, the joint venture partnership completed another multifamily development, Fifty Twelve, located at 5012-5016 South Slauson Avenue in Los Angeles.
"Our partnership with Ketter Construction has been invaluable throughout this process," says Paskover. "The process was smooth during an uncertain time due to the firm's expertise in Los Angeles development."
Olivia Apartments is located at 1556-1564 Hi Point Street in Los Angeles, California.