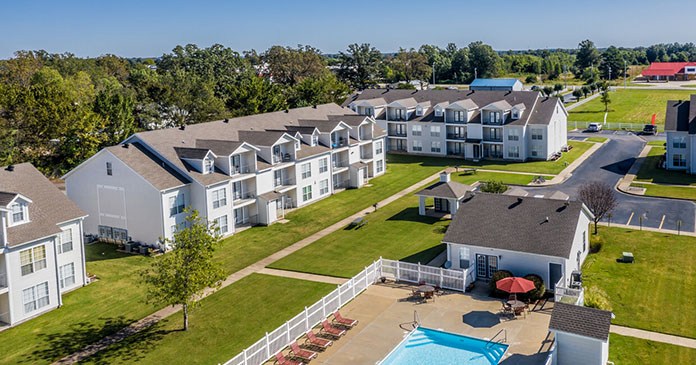 DLP Capital, a private financial services and real estate investment firm, announces the acquisition of Stadium Place, a 200-unit multifamily property, located in Jonesboro, Arkansas. The addition of the community, which will be renamed to DLP Jonesboro, increases the number of DLP Capital-owned multifamily apartment homes to 568 units in the greater Memphis area, positively impacting the workforce housing affordability crisis throughout the Sunbelt and across the country.
Don Wenner, Founder and CEO of DLP Capital commented, "The acquisition of DLP Jonesboro continues to add to our growing portfolio and advances our mission to provide affordable housing to working families throughout the greater Memphis area. Our investors trust us to make an impact for the greater good while we strive to achieve remarkable returns for their investment."
DLP Jonesboro was built in 2000 and includes 1, 2, and 3-bedroom units. It is conveniently located near downtown Jonesboro's major retail center, restaurants, and Arkansas State University, (the second largest university in Arkansas). The property is close to major highway routes offering convenient one-hour access to Memphis, Tennessee. The DLP Capital community includes 10 residential buildings, a swimming pool, a state-of-the-art fitness center, playground & picnic areas, a basketball court, and additional amenities.