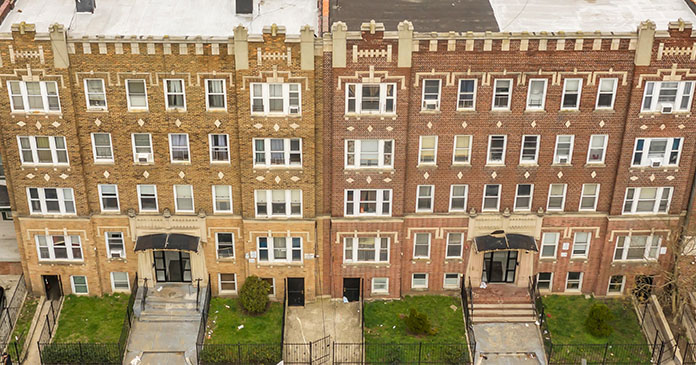 In New Jersey's second largest municipality of Jersey City, Gebroe-Hammer Associates' Executive Vice President Niko Nicolaou has arranged the $21.45M sale of a 134-unit multifamily portfolio spanning three of the city's 13 constituent neighborhoods. In the transaction, Nicolaou exclusively represented the seller, Coltown Properties, and procured the buyer, West of Hudson Properties. Brad Domenico of Progress Capital arranged financing.
The early-to-late-20th Century apartment assets included 150 and 154 Belmont Ave. (26 and 22 units, respectively); 201-203 Claremont Ave. (17 units); 33-35 Storms Ave. (12 units); 35 Kensington Ave. (31 units); and 590 Bergen Ave. (26 units). According to Nicolaou, each offers new ownership tremendous upside associated with being close to Journal Square, which is undergoing sweeping redevelopment.
"All of the new product being constructed and delivered in Journal Square is having an extremely positive effect on occupancies and rent appreciation in the West Side, McGinley Square and Bergen-Lafayette sections of the city where these properties are all located," said Nicolaou.
"Jersey City and greater Hudson County are experiencing a new wave of tenant demand in the pandemic recovery period, specifically among upwardly mobile career starters and an advanced-degree executive-level tenant base," he said. "As a result of this accelerated urban-suburban rental lifestyle demand directly across the Hudson River from Manhattan, the Coltown Portfolio and similar-caliber value-add infill-neighborhood apartment properties are at the top of investor wish lists."
In fact, Nicolaou was recently named the exclusive broker for a 54-unit, four-property multifamily package located in Bayonne and Jersey City. The properties are less than six miles of one another and part of a receivership fee-simple real estate sale.
"This package offers a unique opportunity to acquire four extremely well-located apartment buildings with a mix of one-, two- and three-bedroom layouts in North Jersey's largest submarket—all adjacent to New York City," said the firm's Hudson County market specialist. "New ownership has the potential for 'as-is' +35 percent revenue growth associated with achieving at-market rents and even more through modest value-add capital enhancements to units at turnover."
According to Nicolaou, the Bayonne-Jersey City Portfolio features some of the best walkability rankings in the nation and immediate connectivity to the region's extensive mass-transit network and private and public employers. Outdoor spaces and arts, cultural and dining options also are nearby.