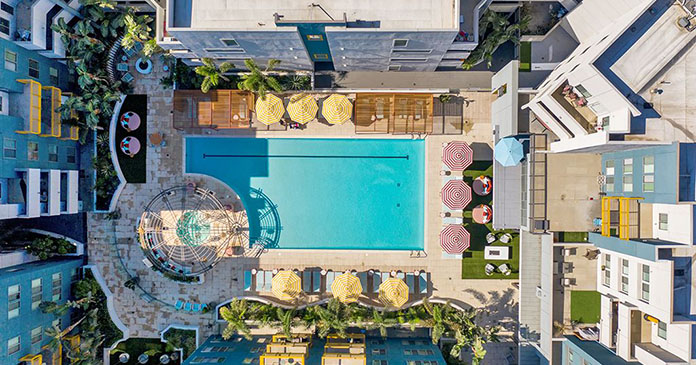 Gelt, Inc. is pleased to announce it has acquired The Oasis Anaheim, a 312-unit, transit-oriented apartment property located at 3530 E. La Palma Avenue in the northeast area of Anaheim, Calif. The Los Angeles-based value-add real estate investor acquired the asset, for $146.5 million from a joint venture led by Redhill Realty Investors.
Built in 2009, the property is situated on 5.21 acres within a mixed-use development called Anaheim Canyon. Each of the asset's two buildings feature four and five stories with a unit mix of lofts, townhomes, and one- and two-bedrooms units averaging approximately 937 square feet. On-site amenities include a resort-style pool, fitness center/yoga studio, clubhouse, recycling services, business center, BBQ grills, and 626 parking spaces.
"The seller did a very nice job renovating about 30 percent of the units of this Class A property, and Gelt plans on completing similar significant upgrades to the remaining 217 units," said Josh Satin Vice President of Acquisitions with Gelt. "The improvements will include quartz countertops, stainless steel appliances, hardwood-style plank flooring, tile kitchen backsplash, under-mount sink with gooseneck faucets, and modern cabinetry and hardware."
"Located in the densely populated infill heart of Orange County—one of the nation's most coveted places to live—this multifamily community checked all the boxes for us from an acquisition perspective," added Jeff Harris Partner with Gelt. "The Oasis Anaheim is a Class A asset with a luxury amenity set. It is also transit-oriented with immediate access to the Anaheim Canyon Metrolink Station, and provides quick access to the 91, 5, and 55 freeways."
With more than 11,000 jobs within a one-mile radius, the property's location in this pocket of Anaheim is supply constrained for apartment inventory with vacancy rates hovering at under a 3 percent.
Keith Wasserman, Partner with Gelt noted that the firm, who has historically sought assets outside of California, has recently been an active in the state. "With a lessening arbitrage in cap rates between secondary and primary markets, we feel it has been a strategic move to add to our Southern California portfolio. We are bullish on the multifamily fundamentals here over the long-term."
Gelt and its family of companies currently own and manage six properties comprised of 833 apartment units, as well as one 665-unit self-storage building in Southern California.  The firm previously successfully exited six assets comprised of 623 units in Southern California.
Sean Deasy, Ryan Fitzpatrick, and Chelsea Jervis of JLL represented both sides of the deal.