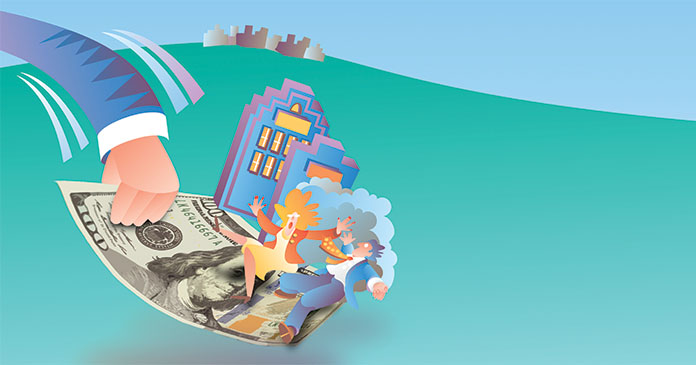 In late August, the Supreme Court struck down the Centers for Disease Control's so-called "eviction moratorium." The justices ruled that the federal agency did not have the legal authority to unilaterally extend a prohibition on the eviction of non-paying tenants in many circumstances.
This was a win for both the rule of law and for a rental market destroyed by the order—but the victory could prove short-lived, if a new coalition of progressive lawmakers gets its way.
Sen. Elizabeth Warren and Rep. Cori Bush, progressive Democrats, co-sponsored legislation to revive the eviction moratorium: the "Keeping Renters Safe Act of 2021."
Their bill would explicitly give the CDC the authority to re-enact the moratorium and compel it to do so. This new moratorium would potentially go even further, applying automatically to all rentals without tenants applying, as previously required.
So, too, it would remain in place until 60 days beyond the "conclusion of the public health emergency."
"This pandemic isn't over, and we have to do everything we can to protect renters from the harm and trauma of needless eviction, which upends the lives of those struggling to get back on their feet," Warren said in a statement. "Pushing hundreds of thousands of people out of their homes will only exacerbate this public health crisis, and cause economic harm to families, their communities, and our overall recovery."
Bush and Warren's alleged ongoing pandemic-fueled eviction crisis to which their law responds, does not exist. An internal report from the Biden administration even found that the financial situation of renters actually improved, on average, during the pandemic.
Meanwhile, COVID-19 vaccines are available at no cost to almost all Americans who want them, and more than 10 million unfilled job openings await anyone seeking work.
The eviction moratorium was always an unjustifiable overreach. It has zero legitimate justification at this point. If revived, it would have drastic consequences.
In reality, the eviction moratorium bankrupted and devastated countless working-and-middle-class landlords. It wasn't just hurting landlords. It was blowing up the rental market on both ends.
In response to the moratorium, which deprived them of any way to enforce rent collection, landlords were responding by leaving units empty and off the market, requiring 6 months rent upfront, raising rent, and selling off their properties.
They're only now regaining their feet with the crushing weight of the moratorium lifted. Reviving it would, again, deliver a gut punch to landlords and devastate the supply of rental housing—increasing rent prices, fueling the housing shortage, and ultimately leaving more people unhoused.
If Elizabeth Warren, Cori Bush, and other progressive lawmakers really want to make housing more affordable, bringing back the eviction moratorium is the last thing they ought to pursue. Only getting the government out of the way and letting the housing market recover can get us out of this mess.
---
Excerpt fee.org