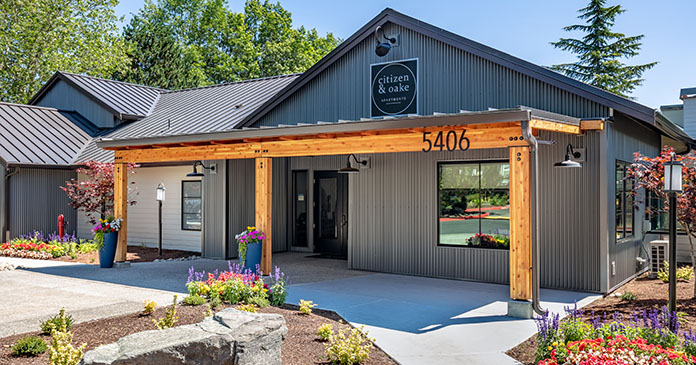 Thayer Manca Residential (TMR) has sold their latest multifamily property in Lakewood, Washington, Citizen & Oake, for $60,000,000. The Seattle-based investment firm acquired the 231-unit apartment community in August 2016 for $32,950,000 and completed $4,800,000 in renovations. 
Citizen & Oake presents an impressive 5,000+ square foot clubhouse including a state-of-the-art fitness center, refreshed office space, community kitchen, expansive game room and lounge, outdoor grills and firepits. The renovation also includes a secure package locker room, new pet park and 40 Itek Energy Solar Panels on the property. Interior renovations were completed in 227 units as well as a full rebranding of the community. 
"We are very happy for our investors to have come full circle on this remarkable transformation," says Joe Manca, Principal at TMR. "We'd like to extend a thank you to Greystar, Berkadia and especially our on-site team for executing on such a comprehensive repositioning."
TMR currently owns two other properties in the South Puget Sound region: the 189-unit Callen Apartments in Lacey, Washington, purchased in 2018 and the 127-unit Woodbury Apartments in Olympia, Washington, purchased in 2021. 
Citizen & Oake is located at 5406 82nd St SW, Lakewood, Washington.