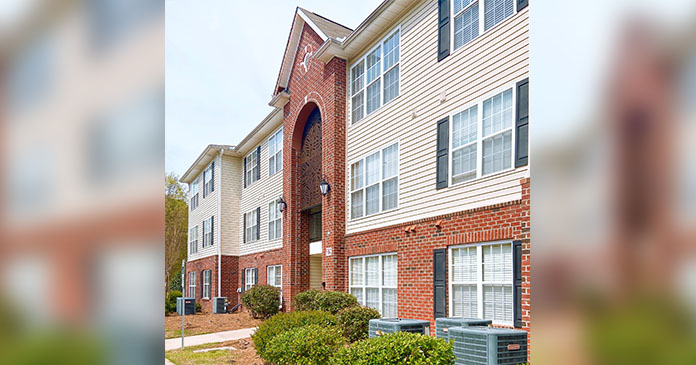 Trion Properties, a private equity real estate firm based in West Hollywood, California and Miami, Florida specializing in multifamily investments, has entered the Southeast market with the acquisition of Crescent Commons, a 288-unit multifamily community in Fayetteville, North Carolina, for $35 million.
The ability to secure this asset off market in a new region demonstrates the firm's strong national reputation as a multifamily owner and keen ability to leverage existing relationships, according to Max Sharkansky, Managing Partner at Trion Properties.
"We've been evaluating opportunities throughout the Southeast for some time as we aim to strategically expand our portfolio in order to bring high-quality rental units to submarkets throughout the country experiencing strong demand," explains Sharkansky. "Crescent Commons is an ideal well-performing yet unrenovated asset located in North Carolina, a state seeing some of the country's highest rates of in-migration, which have been accelerated by the pandemic. This acquisition will allow us to create significant value through implementing our proven renovation and operations strategies, which we've successfully executed in Western markets including California, Oregon, and Colorado over the past several years."
Trion recognized Fayetteville as especially well positioned to benefit from bringing these renovated apartment units to market, based on its limited development pipeline and above-average recent and projected population growth. There have been no new multifamily deliveries within the past 12 months and only one community is under construction, Sharkansky notes.
Marley Dominguez, Director of Acquisitions at Trion Properties, adds: "North Carolina has experienced the sixth-highest population growth percentage of all states over the past decade. We identified the opportunity for both strong in-place cashflow and upside potential, which we will realize through light-to-moderate upgrades that will enhance Crescent Commons' appeal to this influx of residents looking for quality apartments homes."
According to Dominguez, occupancy rates at the property and other comparable communities in the area average in the mid-to-upper-90 percent range, with existing properties achieving organic rent increases of as much as 20 percent as units turn over.
The property's location near Interstate 95 and the partially completed Interstate 295 provides residents with ease-of-access throughout the region and a direct connection to nearby Fort Bragg. Crescent Commons also has a strong built-in potential resident base of those stationed at Fort Bragg who chose to live off base, notes Dominguez.
Trion's value-add program for Crescent Commons will include renovations to all interior units, fitness center expansion, pool area enhancement, and the installation of more prominent and appealing signage. The firm's seasoned team will also assume day-to-day operations of the community through its vertically integrated property management platform to create further value through increased efficiencies.
"This asset includes additional potential for upside through a vacant land parcel totaling over 42 acres," continues Dominguez. "We will evaluate the site for possible development of resident self-storage, an increasingly in-demand amenity, and an additional building of primarily one-bedroom units."
Crescent Commons, which was constructed in two phases in 2002 and 2006, is a three-story, garden-style community consisting of 14 buildings and featuring one-, two-, and three-bedroom units. The property's competitive community amenities include a clubhouse, pool, fitness center, two dog parks, 32 private garages, and a full car wash building.
Crescent Commons is located at 812 Crescent Commons Way in Fayetteville, North Carolina.