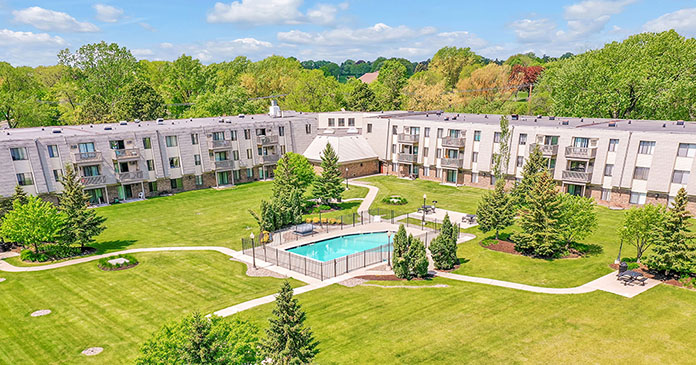 JLL Capital Markets announced that it has closed the $30.25 million sale of Eagle Pointe, a 216-unit, garden-style multihousing community in the Twin Cities suburb of West Saint Paul.
JLL sold the property on behalf of Timberland Partners, a Minneapolis based real estate investment and management company. Timberland owns and manages more than 18,500 units in 85 apartment communities across 17 states.
Eagle Pointe comprises of studio, one- and two-bedroom units averaging 853 square feet. Apartments feature patio/balcony, large closets, air conditioning and dishwashers. The property offers a fitness center, clubhouse, indoor pool, outdoor pool with sundeck, picnic area, heated underground garage, laundry room, playground and tennis court.
Situated at 2044 Oakdale Ave., Eagle Pointe is located eight minutes from downtown Saint Paul. The city offers countless amenities for history and architectural admirers, music enthusiasts, sports fans and lovers of the outdoors. Minneapolis-St. Paul has one of the largest concentrations of Fortune 1000 companies in the world, and the region is home to numerous international headquarters, American headquarters for foreign firms and substantial office operations for firms that are headquartered on either coast. Among both the private and public sectors, Minneapolis-St. Paul is a leader in biotechnology and medical innovation.
The JLL Capital Markets Investment Sales Advisory team representing the seller was led by Senior Directors Josh Talberg, Dan Linnell and Mox Gunderson and Director Adam Haydon.
"Eagle Pointe provided the rare opportunity to acquire a well-kept apartment community in the highly-sought Twin Cities suburb of West Saint Paul," said Talberg. "Demand for well-located apartment assets in the Twin Cities remains strong from local to national buyers considering the markets impressive fundamentals and world-class economic drivers. For this asset in particular, we had over $200 million of capital pursuing a $30 million transaction, and in total have over $700 million in-escrow or coming to market in 2H 2021."
JLL Capital Markets is a full-service global provider of capital solutions for real estate investors and occupiers. The firm's in-depth local market and global investor knowledge delivers the best-in-class solutions for clients—whether investment and sales advisory, debt advisory, equity advisory or a recapitalization. The firm has more than 3,000 Capital Markets specialists worldwide with offices in nearly 50 countries.