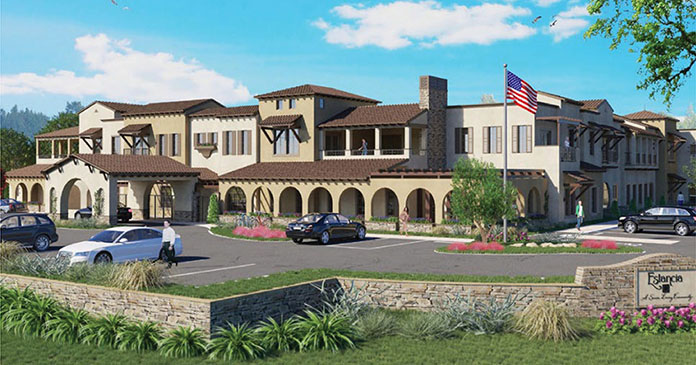 JLL Capital Markets announced that it has arranged $31.6 million in acquisition and mezzanine financing for Estancia Senior Living, a 103-unit, 114-bed, newly developed, Class A assisted living and memory care community in the Southern California community of Fallbrook.
JLL worked on behalf of the borrower, Contour, to secure the $24 million three-year, floating-rate bank loan. Additionally, JLL worked to secure a $7.6 million, four-year, fixed-rate mezzanine loan.
Estancia Senior Living is a brand-new senior living community, which debuted Summer 2021. The Class A 104-unit two-story facility is 88,892 square feet and features a mix of 79 assisted living accommodations and 25 memory care rooms on a 3.4-acre site. The sale also included approximately 5 acres of additional vacant land, located directly adjacent to the property.
Estancia Senior Living is operated by Meridian Senior Living, a top nationally ranked operator in the space, who has been involved with the project's planning and design from the outset. Amenities include restaurant-style dining, two landscaped courtyards, fitness classes, physical therapy center, daily wellness and social activities, beauty salon, spa and hot tub, movie theater, transportation services, laundry facilities and more.
Located at 1735 South Mission Rd., Estancia Senior Living offers residents excellent access to a variety of amenities and activities such as the private-public golf course The Golf Club of California, Pala Casino & Spa and Welk Resorts San Diego and nature trails. Additionally, residents have convenient access to the Interstate 15 and CA-76 highways, providing access to San Diego and surrounding affluent suburbs such as Oceanside, Carlsbad, and Encinitas. Temecula Valley Hospital is located within 7 miles of the property.
Although the greater region has seen a significant amount of commercial activity in recent years, development of senior housing product has lagged with only two new projects delivered in the last 17 years. Seniors continue to choose to reside in suburban neighborhoods due to their relative value comparison and desire to remain in their neighborhood communities. Within the two MSA's the project will draw residents from the over 75 age population of 545,668, with projected growth of 3.99 percent with an underlying affluent demographic.
The Capital Markets Debt and Equity Advisory team representing the borrower included Director Alanna Ellis and Senior Director Jeff Sause.
JLL Capital Markets is a full-service global provider of capital solutions for real estate investors and occupiers. The firm's in-depth local market and global investor knowledge delivers the best-in-class solutions for clients—whether investment sales and advisory, debt advisory, equity advisory or a recapitalization. The firm has more than 3,000 Capital Markets specialists worldwide with offices in nearly 50 countries.