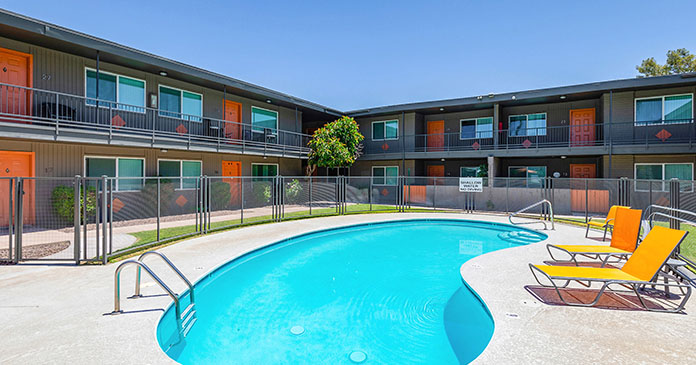 ABI Multifamily, the leading multifamily brokerage and advisory services firm in the Western US, is pleased to announce the $11,019,000 / $216,059 Per Unit / $203.40 Per SF sale of Cornell Apartments, a 51-unit multifamily apartment property located in Phoenix, Arizona. ABI Multifamily's John Klocek and Patrick Burch represented the seller in this transaction.
Cornell Apartments is a mid-century, block-constructed apartment community built in 1968 in North Central Phoenix. The property sits on a street lined with mid-century buildings and grassy, palm tree-lined medians. The property is comprised of (34) large 3-bedroom / 2-bathroom units averaging 1,120 SF each, (14) large 2-bedroom / 2-bathroom units averaging 1,032 SF each, and (2) 1-bedroom / 1-bathroom units, and a studio. All units are individually metered for electricity and recent interior improvements include in-suite washers and dryers, stainless-steel appliances, stone countertops throughout, new interior fixtures and ceiling fans, and vinyl wood flooring in most units. Community amenities include a swimming pool, barbecue grill, central courtyards and outdoor gathering spaces, beautiful landscaping with mature trees, and covered parking.
Cornell Apartments is located only minutes from the heart of the North Central Corridor, 7th Street Restaurant Row, and is less than six miles from the Biltmore area and approximately eight miles north of Downtown Phoenix. Multiple light rail stations are right around the corner with the nearest one about three blocks away. Residents also enjoy a premium central location with direct access to all areas of Phoenix by way of the Interstate 10 and State Route 51. An abundance of dining and entertainment options are just a ten-minute drive away at Uptown Plaza and just five blocks directly south of the property, is Christown Spectrum Mall.
The buyers are based in California and Texas and the seller is based in Arizona.