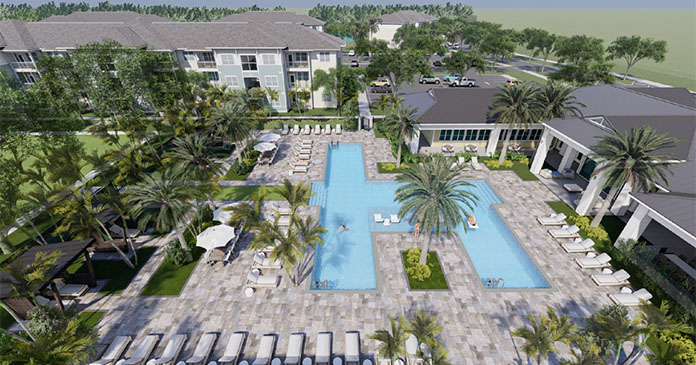 Concord Summit Capital, LLC (Concord Summit) successfully arranged more than $60 million in construction financing for Sunset Walk Apartments in Kissimmee, Florida. Longtime Concord Summit client, Encore Capital Management (Encore), is developing the 352-unit Class A residential project within the master-planned community of Sunset Walk.
The transaction includes a $45.59 million senior loan and $14.75 million in preferred equity. Initial site work on the project is underway.
Concord Summit's Managing Director Kevin O'Grady, Director Justin Neelis and Senior Analyst Daniel Rojo sourced the financing on Encore's behalf.
Located at 8000 Fins Up Circle, Sunset Walk Apartments' 352 units will be constructed within three and four-story buildings, with surface parking for residents. It will feature 152 one-bedroom apartments ranging from 739 to 886 square feet, 164 two-bedroom units ranging from 1,026 to 1,180 square feet and 36 three-bedroom apartments ranging from 1,253 to 1,324 square feet. Each unit will have high-end finishes and modern flooring.
The community, which is the second multifamily phase of the broader mixed-use development, will feature a fitness and yoga center, pool, club room, and business center.
Encore originally acquired the Sunset Walk site in 2013 and completed several components in the years since, including a 184-room Margaritaville Resort Orlando, 631 Margaritaville-branded cottage homes, more than 192,000 square feet of retail and restaurant space at Promenade at Sunset Walk, and the Island H20 Water Park.
Apartment residents will have full access to the resort's amenity base, inclusive of the Fins Up Beach Club and restaurant offerings. They will also receive discounts at the Promenade at Sunset Walk's retail shops and the water park.
In August 2021, Concord Summit also completed a $98.39 million refinancing for the Margaritaville Resort Orlando on Encore's behalf.
"It is exciting to close another successful transaction at one of Encore's signature master-planned developments in Florida," O'Grady said. "This new project accommodates the intense demand for new high-end apartments in the area and complements the other uses within Sunset Walk."
"The team at Concord Summit has routinely proven that they can get a deal done with the right finance and investment partners offering the most competitive terms in the market," said Art Falcone, co-founder and managing principal of Encore Capital Management. "With this deal closed, we can move forward with building out our next phase of residential units and be closer to completing this world-class entertainment destination."