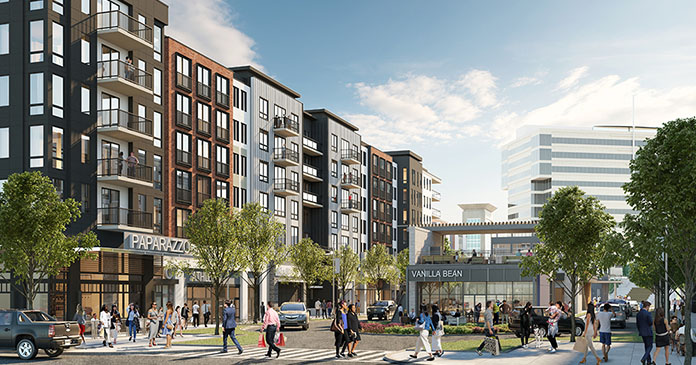 JLL Capital Markets announced that it has arranged a construction loan for the development of Phase I of High Street, a mixed-use destination featuring approximately 150,000 square feet of retail and restaurants, 600 luxury apartments, 90,000 square feet of loft office and 222,000 square feet of existing office in the Central Perimeter submarket of Atlanta, Georgia.
JLL represented national real estate developer, owner and operator GID in arranging a loan with Bank OZK.
High Street's transit-oriented, urban district is thoughtfully designed around an internal street grid with 10 city blocks, driving energy and activity to the street-level and public realm. The retail experience at High Street is focused on bringing in chef-driven dining, luxury retail and best-in-class entertainment, centered around an expansive signature park that will be activated with community events. Puttshack, an immensely popular entertainment-driven mini golf experience, was recently announced as the first anchor tenant for the project. GID will break ground on the first phase of High Street this year, with completion set for 2024.
"In High Street's first phase, we will make significant strides in not only bringing a new mixed-use experience to Atlanta, but also seamlessly integrating High Street into the fabric of Central Perimeter so it remains a fixture in the community for generations," says Jim Linsley, President of GID Development Group. "We're focused on far more than just building buildings—it's about creating a walkable, highly connected place that blends all uses together in one distinct urban environment. We're committed to developing High Street to be the premier mixed-use destination in the southeast, and we look forward to seeing our vision come to life."
High Street is located across from the Dunwoody MARTA station and at the interchange of two major freeways, Georgia 400 and the Interstate 285 perimeter loop. With proximity to Interstates 75 and 85, the Central Perimeter submarket offers easy access throughout Metro Atlanta. Central Perimeter is the largest corporate office market in the southeast and is the dominant office market in metropolitan Atlanta. With approximately 36 million square feet of office space, 4,000 businesses and 188,000 in daytime population, Central Perimeter is the national or regional headquarters for several Fortune 500 companies.
The JLL Capital Markets debt team that represented the developer was led by Senior Managing Director Ed Coco and Senior Director Matt Casey.
JLL's Brokerage teams led by Molly Morgan and Allie Spangler, and Jeff Bellamy and Claire Ross, represent GID in the retail and office leasing of High Street.
"GID is poised to create a truly remarkable development that will enrich Central Perimeter with a highly sought-after amenity base for residents, workers, shoppers and diners alike," said Coco. "GID's experience with large-scale development is top-notch, and we couldn't be happier to help introduce a new financing relationship for them with Bank OZK."
JLL Capital Markets is a full-service global provider of capital solutions for real estate investors and occupiers. The firm's in-depth local market and global investor knowledge delivers the best-in-class solutions for clients—whether investment sales and advisory, debt advisory, equity advisory or a recapitalization. The firm has more than 3,000 Capital Markets specialists worldwide with offices in nearly 50 countries.