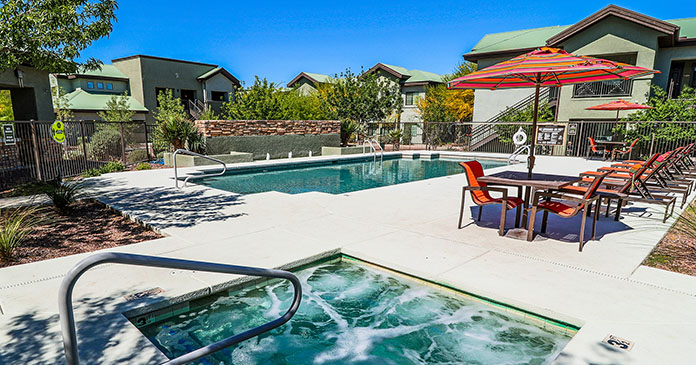 Full-service multifamily investment, management and development firm MC Companies has secured more than $72.7 million through the refinance of four Class A and B multifamily properties in Arizona and Oklahoma. The capital will be used for investor distributions and to reinvest in the refinanced assets through updates and renovations that "Share the Good Life" with MC Companies residents.
Collectively, the refinanced properties represent 954 multifamily units within the MC Companies portfolio of more than 6,500 units (or $920 million AUM). Loan durations range from 6 to 10 years and a mix of Freddie Mac, Fannie Mae and bank-financed mortgages that significantly reduced cost of capital and improved terms.
"This year marks MC Companies' 20th anniversary, and these loans reflect that tenure – underscoring the trust and relationships we've built during our two decades in the multifamily industry," said MC Companies Co-Principal Ross McCallister. "We will utilize this capital to achieve business plan milestones and to continue reinvest in these multifamily assets, which are part of over 6,500 units that we not only own but also 100 percent manage at a level of quality that gives everyone at MC Companies great pride."
Properties refinanced within the MC Companies portfolio include three communities in Tucson, Arizona: The Place at 2120, refinanced for $4.53 million with Clay Akiwenzie of Berkadia Commercial Mortgage; The Place at Presidio Trails, refinanced for $28.87 million with Kevin Prouty at CBRE; and The Place at Spanish Trail, refinanced for $20.10 million, also with Berkadia's Akiwenzie. It also includes the refinance of one property in Broken Arrow, Oklahoma: The Place at Quail Hollow, refinanced for $19.20 million with Alex Inman of Walker & Dunlop.
The refinances coincide with MC Companies' 20th anniversary and recently launched Operation 25K – an initiative to grow the firm from 6,500 units to 25,000 units under ownership by 2029. This will require MC Companies to successfully purchase 1,000 units in 2021 and more than 2,500 units annually thereafter. It will also involve new construction, including over 1,100 units in the MC Companies development pipeline.
Acquisitions and development will take place in traditional MC Companies markets like Arizona, Texas and Oklahoma, and also expand the company into new U.S. multifamily growth markets. The growth is expected to double the MC Companies team from approximately 200 current employees to more than 400 employees over the next two to three years. The company is in talks to secure a joint venture partner for its growth plan.
MC Companies founders Ken McElroy and Ross McCallister have been leaders in the multifamily investment industry for over 30 years. The company continues to actively pursue new land for development and existing properties for value-add investment.