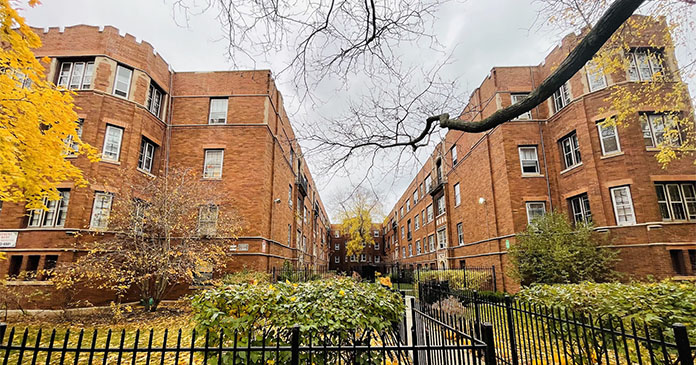 Becovic, a Chicago-based multifamily owner and operator, has added a 1920s era courtyard building to its Northside portfolio. The Juneway Gardens, located at 1548-1558 ½ W. Juneway Terrace in Chicago, sold for $7.25 million. The off-market transaction was brokered by Becovic Realty, the brokerage arm of Becovic.
"Our roots are deep in Rogers Park and we use decades of experience to create the best apartment home experience for our residents," said Becovic President Sal Becovic. "The Juneway Gardens is a beautiful property with a great mix of apartment floor plans. We are excited to continue building community with residents in such a great neighborhood."
Originally built in 1922, The Juneway Gardens is a three-story, 61-unit courtyard apartment building located in Chicago's Rogers Park neighborhood. The seller, a well-known owner/operator of many apartments in the area, owned the property for more than 30 years. The property's 61 units are made up of 18 one-bedrooms, 34 two-bedrooms and nine three-bedroom units. Situated in the North of Howard area of Rogers Park, the property offers residents great proximity to parks and lakeside amenities as well as shopping, restaurant and nightlife offerings.