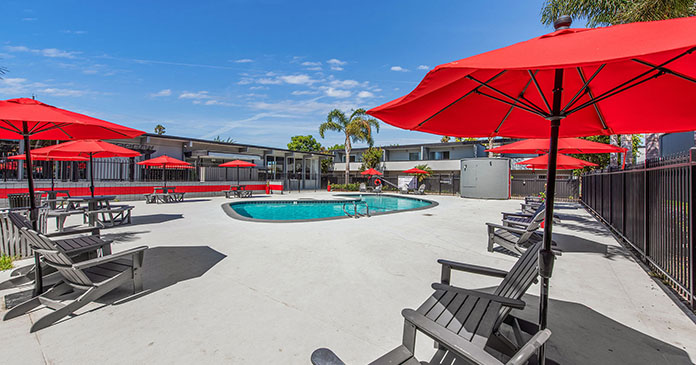 CGI+ Real Estate Strategies' ongoing efforts to broaden its investment platform has led to the firm to make its second suburban purchase in the last 11 months with the acquisition of Alturas, a 170-unit multifamily community located in Oxnard, CA in an off-market transaction for $50.7 million.
While CGI+ has traditionally invested in and developed properties within the urban core of cities like Los Angeles, Atlanta and New York, the firm's suburban acquisitions are a part of its strategy during and coming out of Covid to capture on current migration patterns and strong demand for suburban apartments with proximity to major urban cities.
Alturas is the Woodland Hills-based real estate investment firm's first acquisition in Ventura County which is located approximately 60 miles west of downtown Los Angeles. Earlier this year CGI+ acquired a six-asset multifamily portfolio in Santa Clarita, a growing suburban city located approximately 30 miles north of downtown Los Angeles.
"During the pandemic, suburban markets like Oxnard have experienced a strong influx of new residents from people exiting cities in search of more space and a more affordable lifestyle," said Andre Soroudi CGI+'s Executive Vice President. "The population growth in Ventura County is creating growing demand for quality rental housing especially in Oxnard where over the past two years the price of single-family homes has increased by more than 20 percent, keeping a large majority from being able to buy."
The property, which will be rebranded as Via Oxnard, was built in 1965 and is comprised of 170 one-, two, and three-bedroom units with 76 percent being two story townhomes. With half the units renovated, CGI+ will initiate a significant capital improvement plan to upgrade the remaining units and common areas.
The property is in South Oxnard, in close proximity to a growing number of employment centers. Over the past decade, Ventura County's economy has dramatically shifted from a region highly dependent upon government funded aerospace and defense programs and agriculture, to a leading center for high-tech, telecommunications, clean energy and healthcare.
Major companies like Amgen, General Dynamics Corporation, Ixia, Waterway, Volkswagen, Jafra Cosmetics, Kythera Biopharmaceuticals and Dole Food Company have a significant presence in the market. In October 2020, Oxnard officials announced that a 430-acre of agricultural land will be fully developed into a business park which will include an Amazon fulfillment center. City officials estimate that up to 8,700 jobs will be created in the area as a result of the greater master plan.
"While this is our first multifamily acquisition in Ventura County, we've eyed this market for a long time due to the strong fundamentals and long-term barriers to entry for new supply," Soroudi said. "We are eager to acquire additional properties like this one which will further diversify our portfolio and fuel CGI+'s ongoing growth."
Greg Harris, Joe Grabiec, and Kevin Green of Institutional Property Advisors represented both the seller and CGI+ in the transaction.