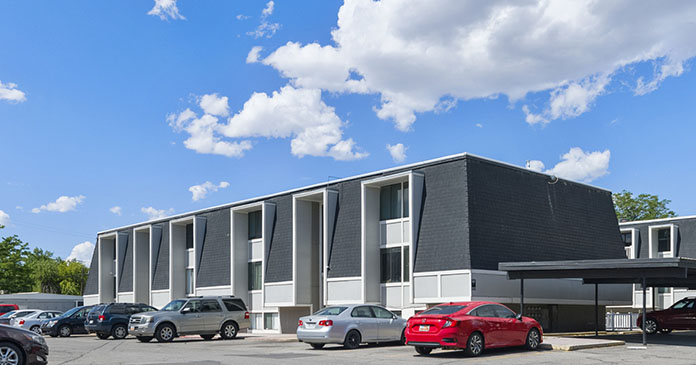 Next Wave Investors, LLC (Next Wave) a private equity firm focused on value-add multifamily investments, has sold Aspen Village Apartments, a 90-unit apartment community in West Valley City, Utah to a local buyer.
Next Wave, via a subsidiary company, initially purchased the property in 2019 with the intention of implementing value enhancing renovations to improve market penetration and operating efficiency. Through enacting this proven value-add program, the firm was able to increase the value of the asset by over 50 percent in just a little over two years, according to Jordan Fisher, Principal at Next Wave.
"Aspen Village Apartments fits perfectly into our strategy of investing in value-add multifamily properties in key secondary markets," says Fisher. "Built in 1973, Aspen Village had been owned and operated by a private individual for over a decade. When we took over, there was a strong opportunity for upside potential through a mix of implementing professional management, addressing deferred maintenance and investing in value-creating upgrades. Our team was able to implement our investment strategy of creating value through a mix of interior and exterior enhancements to help maximize returns for our investors and to improve the quality of life for residents."
David Sloan, Principal at Next Wave, adds that Aspen Village Apartments is ideally located less than 10 miles from downtown Salt Lake City, one of the fastest growing metropolitan areas in the U.S, and ranked in the top three of CNBC's best states for business. Additionally, between 2010 and 2020, Salt Lake City boasted a 15 percent increase in population. This strong economic and demographic development has led the city to be ranked in the top 25 on U.S. News Report's list of the Best Places to Live in the U.S.
"As a result of Salt Lake City's rapid growth, we've seen an increased demand for high-quality multifamily housing," says Sloan. "This demand has resulted in increased investor interest and capital flowing to the region. Our ability to identify, source and reposition this asset and transform it into a stabilized, cash flowing asset that will continue to perform, made it extremely appealing to potential buyers."
Aspen Village Apartments has been upgraded to include in-unit washers and dryers, faux hardwood flooring, complete kitchen upgrades including new cabinet doors and stainless-steel appliances, new plumbing and lighting fixtures, and resurfaced counter tops. Residents can also enjoy community amenities including a renovated pool area, renovated clubhouse, new fitness center and business center.
Aspen Village Apartments is ideally located just moments from the 215 Beltway and the Bangerter Highway, offering easy access to notable retail, entertainment, and educational destinations including Salt Place Convention Center, City Creek Center and The University of Utah. The property is also situated adjacent to Fairbourne Station, a new high-end, mixed-use development that is anticipated to create jobs in the area and provide an abundance of entertainment and retail offerings.
The property is located at 3043 W 3500 S, West Valley City, UT 84119.