Passco Companies, a privately held California-based commercial real estate company that specializes in real estate acquisition, development, and asset management throughout the U.S., has acquired two best-in-market luxury multifamily assets spanning 552 units in Baton Rouge, marking the firm's entrance into the Louisiana State Capital.
"These acquisitions exemplify Passco's long-term strategy of identifying exceptional assets in up-and-coming markets where value creation is still possible," says Larry Sullivan, President at Passco Companies. "Baton Rouge is an often-overlooked investment market with solid fundamentals poised for substantial long-term growth. Driven by healthcare, education and government, the city's employment is steadily growing, supporting a strong population of renters. In addition, The Port of Greater Baton Rouge in conjunction with strong chemical and industrial construction sectors add to a well-rounded and diversified local economy."
Regional multifamily demand is further bolstered by limited supply, with Baton Rouge recently reporting over a two-third decrease in properties available for rent since the start of the pandemic.
"Each of these acquisitions is in a high barrier-to-entry pocket based on the localized dynamics of Baton Rouge's development climate," says Colin Gillis, Passco's Vice President of Acquisitions. "The majority of existing multifamily product in this market has been developed to only to address basic housing needs; however, these properties are built to national luxury design standard seen in most primary markets, reflecting an elevated offering for more discerning renters."
Passco acquired 276-unit Tapestry Long Farm from the property's developer, Birmingham, Alabama-based Arlington Properties in addition to the 276-unit Sweetwater Apartment Homes from that property's developer, Hammond, Louisiana-based Stoa Group. Arlington Properties will manage both assets moving forward.
Passco's two recent acquisitions include: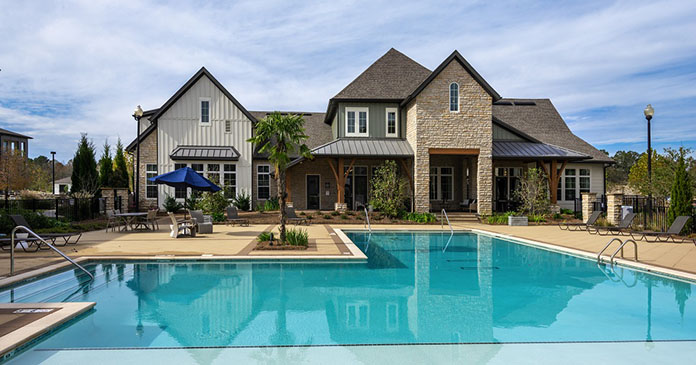 Tapestry Long Farm
Passco Companies has acquired Tapestry Long Farm, a 276-unit luxury Class A multifamily asset situated within the dynamic master-planned development of Long Farm Village.
"This property's location is irreplaceable. Backed by a well-known and respected master-plan developer, Long Farm Village is only forty percent built out, giving Passco an opportunity to enter into this developing location at an early stage," notes Gillis. "This 235-acre mixed-use development comprises high-end single family residential, as well as retail, office, and entertainment/recreation options that will drive multifamily demand from the region's strong demographic of workers."
Built in 2017, the property is less than six miles from the city's most active medical campus and benefits from close proximity to the region's most prominent employers.
Tapestry Long Farm features a mix of one-, two-, and three-bedroom floor plans with luxurious interior finishes and a host of high-end amenities, including a fitness center, business center, auto car center, pet park and grooming station, sports pub, swimming pool, and yoga and spin studio, among others.
Both Passco and the seller were represented by Mike Kemether and Larry Schedler of Cushman & Wakefield.
Tapestry Long Farm is located at 16333 Columns Way, Baton Rouge, Louisiana, 70817.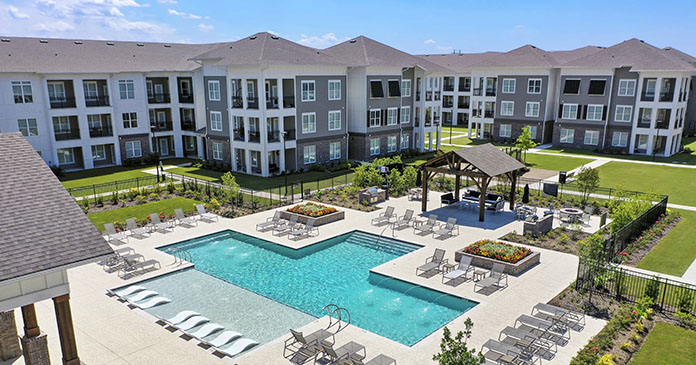 Sweetwater Apartments
Passco also completed the off-market acquisition of Sweetwater Apartments, a newly delivered and recently stabilized 276-unit Class A property in the town of Addis, a western suburb of Baton Rouge.
"This is the only luxury multifamily property on the west side of the Mississippi River, giving Passco an opportunity to differentiate from local competition," says Gillis. "The surrounding neighborhood boasts the most in-demand school system in the region, and residents have easy access to major employers in both West and East Baton Rouge while enjoying the quiet lifestyle this area provides."
Sweetwater Apartments is in close proximity to Louisiana State University and the 3,000-employee Dow Chemical plant, among other major employers. The property is close to downtown Baton Rouge, with quick access to retail, dining, and entertainment options.
The resort-inspired property comprises a variety of luxurious floor plans with interiors comprising of stainless-steel appliances, faux wood blinds, full sized washer and dryer units, and pendant lighting, among other high-end finishes. The community offers residents a lighted walking trail, resort-style pool, car wash and vacuum station, game room, dog park, and a resident coffee bar.
Passco and the seller were represented by Jeffery Glassover and Matthew Raitz of Glassover & Raitz LLC,
Sweetwater Apartments is located at 3476 Sweetwater Blvd, Addis, Louisiana, 70710.