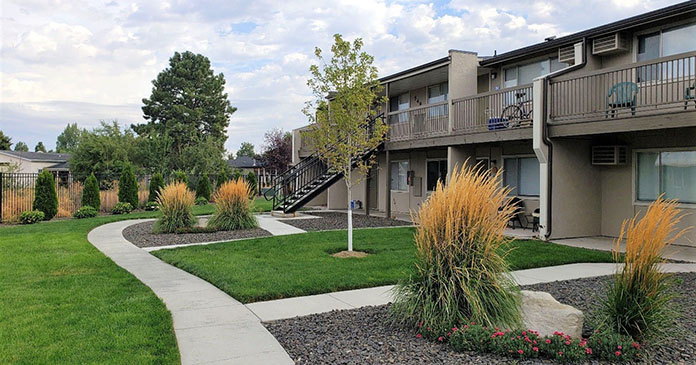 RanchHarbor, a real estate investment firm based in Newport Beach, Calif, announced its acquisition of Glenbrook Apartments, a 112-unit multifamily garden-style apartment complex in Boise. RanchHarbor purchased the 92 percent-occupied asset in an off-market transaction from a private seller, below replacement cost and at an attractive basis. Terms of the deal were not disclosed. The transaction marks RanchHarbor's second asset acquisition in Boise in 2021.
Built in 1973, Glenbrook includes 13 one-bedroom/one-bathroom 672-square-foot units and 99 two-bedroom/one-bathroom 838-square-foot units. The 6.45-acre property was lightly renovated in 2017 where the previous owner replaced roofing, improved landscaping and upgraded some interior units.
RanchHarbor will immediately begin performance of deferred maintenance and an extensive exterior renovation program. The scope includes paint, new laundry rooms, installation of a dog park and wash station, package locker system, bike racks, bar-b-que areas and a new playground, as well as updating the pool area and clubhouse. RanchHarbor is also replacing windows in all units and adding carports. The interior renovation scope includes two-tone paint, new stainless-steel appliances, flooring, light fixtures, cabinets, quartz counters and upgraded bathrooms to all apartment units.
"RanchHarbor is excited to undertake the repositioning of Glenbrook Apartments. The asset represents an opportunity to invest in a well-located, low-density value-add property in a strong Boise submarket," said Adam Deermount, managing principal at RanchHarbor. "Population and employment growth in Boise have flourished in recent years, buffered by its business-friendly climate coupled with the high cost of living in major western markets. The RanchHarbor team is leaning into its experience to secure value-add investments in high-growth markets such as Boise that will provide strong cash yield and potential appreciation to our investors."
Well-located on the Boise Bench at 563 South Curtis Road, Glenbrook Apartments is proximate to the 84 and 184 freeways, providing convenient access to regional job centers and amenities throughout the Boise metropolitan statistical area (MSA). The property is approximately 3.5 miles southwest of Downtown Boise and 1.1 miles south of the St. Alphonsus Regional Medical Center, one of the premier hospitals and employers in the region. It is also within a 20-minute drive to the corporate headquarters of Micron Technology and Albertsons, as well as the HP's regional headquarters.
The local submarket surrounding Glenbrook consists of primarily single-family homes and older vintage apartment buildings, with retail amenities to the north along Franklin Street and the south along West Overland Road.
"RanchHarbor continues to see opportunity for long-term growth in Boise's workforce housing space," added Deermount. "The influx of highly paid white-collar workers into Boise has led to a rapid increase in the area's housing prices, which have far outpaced income growth for local residents and created massive demand for workforce housing."
"Supported by strong population and economic growth fundamentals, Boise continues to attract both corporations and remote workers," said Steve Sims, managing principal at RanchHarbor. "The recent dramatic increase in for-sale housing prices, along with rising development costs for new multifamily product have created an opportunity to reposition well-located, older buildings within the Boise market. Glenbrook Apartments is well aligned to take advantage of upside through execution of RanchHarbor's improvements and deferred maintenance."
Jake Miles of Marcus and Millichap represented the buyer and seller in the transaction. The investment is RanchHarbor's fifth overall acquisition in 2021 and its second in the South Boise submarket. In Q3, RanchHarbor acquired 2435 W. Cherry Lane, a five-unit 1963 vintage apartment complex that featured large midcentury two-story loft floorplates.
RanchHarbor continues to actively seek value-add and opportunistic general partner (GP) and limited partner (LP) commercial real estate investment opportunities in select western U.S. markets with targeted equity investments between $2 million and $15 million.