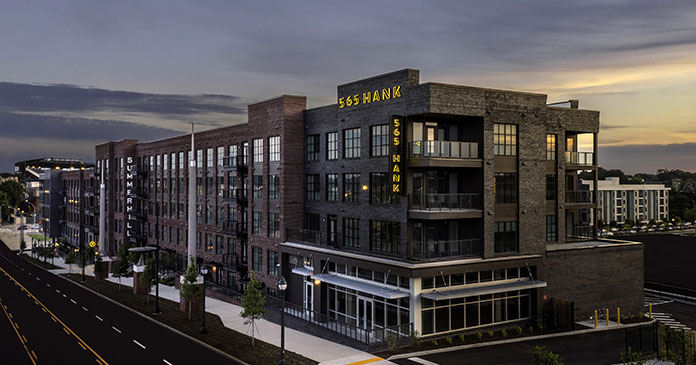 Cushman & Wakefield announced the commercial real estate services firm has arranged the sale of 565 Hank, a 306-unit apartment community located in Atlanta, Georgia's Summerhill neighborhood.
Robert Stickel, Alex Brown, and Michael Kay of Cushman & Wakefield represented the sellers, Carter and Kayne Anderson Real Estate, in the transaction. GID, a real estate private equity investor and manager, acquired the property.
"Carter's vision for Summerhill and the thoughtful design of 565 Hank has created a compelling asset for both residents and capital," said Stickel.
Built in 2021, 565 Hank is strategically positioned at the epicenter Atlanta's transformative Summerhill development, Carter's 80-acre redevelopment of Turner Field and the surrounding area. The mixed-use project located just south of Downtown Atlanta includes new multifamily, student housing and townhomes, chef-driven restaurants and retail along Georgia Avenue, Georgia State University athletic facilities, a forthcoming 50,000 square foot Publix grocery store, and future office, residential and retail projects.
The area has proximity to the city's most influential employment nodes, colleges and universities, airport, and transportation hubs. In addition to its prime location, the property features flawless finishes and a high-quality design.
Brown added, "GID recognized an opportunity to build upon their growing Atlanta portfolio and leaned into the robust growth potential in the multifamily sector."
The amenities at 565 Hank are best-in-class and include a 24-hour fitness center, multi-entrance-controlled access parking garage, two-story clubroom with a fireplace and kitchen/bar, park-inspired courtyard, and a resort-style swimming pool with lounge space and skyline views. These features position the property for continued growth and long-term sustainability.
Cushman & Wakefield's Sunbelt Multifamily Advisory Group ranks No. 1 in Sunbelt market share based on over 250 transactions and $6.2 billion in multifamily and land investment sales in 2020 (Source: Real Capital Analytics). Market share reflects number of sales for Alabama, Arkansas, Northwest Florida, Georgia, Kentucky, Louisiana, Mississippi, North Carolina, South Carolina, Tennessee and Texas.