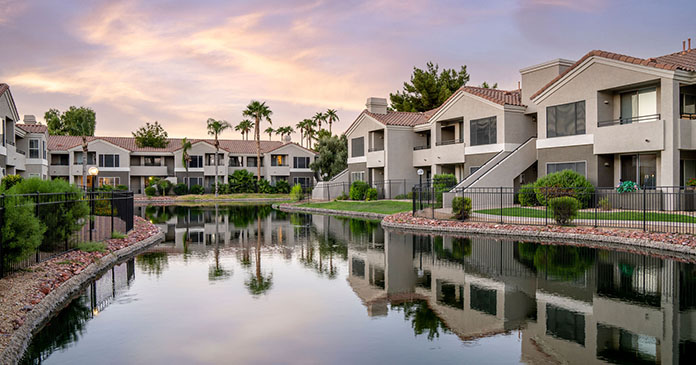 Decron Properties continues to build a formidable portfolio of multifamily assets in the Phoenix MSA with its acquisition of Arrowhead Ranch by Baron (Arrowhead Ranch), a 256-unit community located in Glendale, Ariz. for $101 million.
With the addition of Arrowhead Ranch, Decron has now acquired 1,352 units in the Phoenix MSA over the last eight months among five properties in the submarkets of Tempe, Chandler and Glendale. The speed with which the Los Angeles-based multifamily real estate investment firm has built out its local portfolio has not gone unnoticed by brokers and others involved in the industry in Phoenix, according to CEO David Nagel.
"Our ability to scale up so quickly in Phoenix sends a message to our investors and the industry that we have resources and capabilities to come into a new market and execute on deals with a high level of certainty," Nagel said. "Brokers and sellers in Phoenix have learned we are willing to roll up our sleeves and get the deal done."
Built in 1996, the property, which will be rebranded as The Lakes at Arrowhead Ranch, is located on a low-density site (±16 units per acre) at 20250 North 57th Avenue in the master planned community of Arrowhead Ranch, one of the Northwest Valley's most coveted suburban neighborhoods. The traditional garden-style community offers a mix of one- two- and three-bedroom apartment homes that feature upscale amenities in both the units and the common areas.
Arrowhead Ranch is adjacent to the Loop 101, giving residents access to multiple employment hubs across Glendale and Phoenix, such as the Deer Valley & Interstate 17 (I-17) Employment Corridor, home to such Fortune 500 companies as Well Fargo, Honeywell, United Health Group, Discover Financial Services, USAA, and FedEx.
Having created a significant presence in California, Washington and Arizona, Decron is starting the process of looking for its next market for expansion. After focusing solely during its first 35 years of operation in California, Decron has increased its geographic diversity, inspired by events like the COVID-19 pandemic and rent control legislation according to Nagel.
"We are reducing our exposure in the rent-controlled markets of California and are instead focusing our growth efforts in non-rent controlled markets that offer substantial population growth and job growth like Phoenix," Nagel said. "What we have done in Phoenix in a very short period of time shows when we show up in a new market and say we're going to make an impact we're not kidding. So, I think whatever is the next market we choose, people will take us seriously."