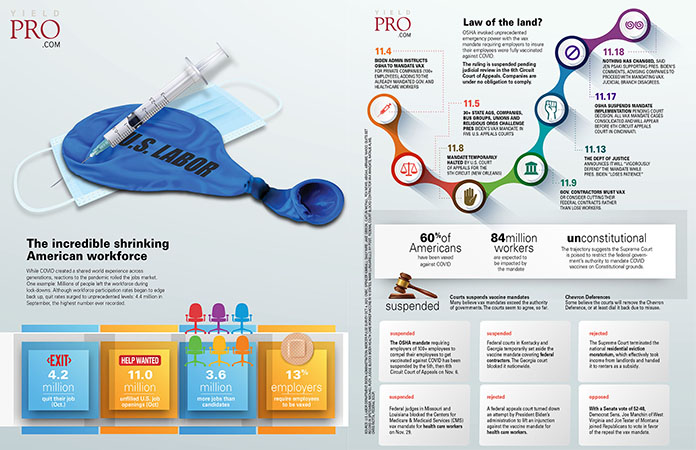 While COVID created a shared world experience across generations, reactions to the pandemic roiled the jobs market. One example: Millions of people left the workforce during lock-downs. Although workforce participation rates began to edge back up, quit rates surged to unprecedented levels: 4.4 million in September, the highest number ever recorded.
2 million quit their job (Oct.)
0 million unfilled U.S. job openings (Oct)
6 million more jobs than candidates
13% employers require employees to be vaxed
Law of the land?
OSHA invoked unprecedented emergency power with the vax mandate requiring employers to insure their employees were fully vaccinated against COVID.
The ruling is suspended pending judicial review in the 6th Circuit Court of Appeals. Companies are under no obligation to comply.
4.21 – Biden Admin instructs OSHA to mandate vax. For private companies (100+ employees), adding to the already mandated gov. And healthcare workers
5.21 – 30+ state AGs, companies, bus groups, unions and religious orgs challenge Pres Biden's vax mandate in five U.S. appeals courts
8.21 – Mandate temporarily halted by U.S. court of appeals for the 5th circuit (New Orleans)
9.21 – Gov. contractors must vax or consider cutting their federal contracts rather than lose workers.
13.21 – The Dept of Justice announces it will "vigorously defend" the mandate while Pres. Biden "loses patience"
17.21 – OSHA suspends mandate implementation pending court decision. All vax mandate cases consolidated and will appear before 6th Circuit Appeals Court in Cincinnati.
18.21 – Nothing has changed, said Jen Psaki supporting Pres. Biden's comments, advising companies to proceed with mandating vax. Judicial branch disagrees.
60% of Americans have been vaxed against COVID
84 million workers are expected to be impacted by the mandate
Unconstitutional. The trajectory suggests the Supreme Court is poised to restrict the federal government's authority to mandate COVID vaccines on Constitutional grounds.
Courts suspends vaccine mandates
Many believe vax mandates exceed the authority of governments. The courts seem to agree, so far.
Chevron Deferences
Some believe the courts will remove the Chevron Deference, or at least dial it back due to misuse.
[suspended] The OSHA mandate requiring employers of 100+ employees to compel their employees to get vaccinated against COVID has been suspended by the 5th, then 6th Circuit Court of Appeals on Nov. 6.
[suspended] Federal courts in Kentucky and Georgia temporarily set aside the vaccine mandate covering federal contractors. The Georgia court blocked it nationwide.
[rejected] The Supreme Court terminated the national residential eviction moratorium, which effectively took income from landlords and handed it to renters as a subsidy.
[suspended] Federal judges in Missouri and Louisiana blocked the Centers for Medicare & Medicaid Services (CMS) vax mandate for health care workers on Nov. 29.
[rejected] A federal appeals court turned down an attempt by President Biden's administration to lift an injunction against the vaccine mandate for health care workers.
[opposed] With a Senate vote of 52-48, Democrat Sens. Joe Manchin of West Virginia and Jon Tester of Montana joined Republicans to vote in favor of the repeal the vax mandate.