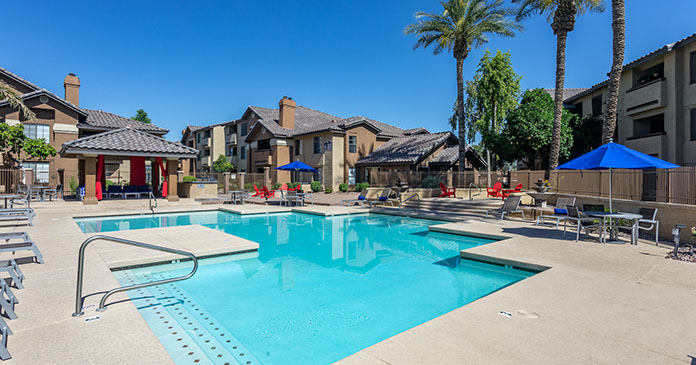 Intercontinental Real Estate Corporation (Intercontinental) has acquired Garden Grove Apartments, a 376-unit garden-style apartment complex in Tempe, Ariz. for $126 million. The acquisition marks Intercontinental's fifth acquisition in Phoenix.
Garden Grove Apartments is located at 900 W. Grove Parkway in the South Tempe neighborhood of Phoenix, 13-miles southeast of Downtown and five miles south of Arizona State University's main campus. The community's one- and two-bedroom units are housed in 20, two- and three-story walk-up apartment buildings on a low-density 14-acre site.   The highly amenitized community includes a club house with kitchen and gaming lounge, movie theater and package receiving lockers. Located throughout the grounds are three resort-style pools spas, each with water features, private cabanas, poolside lounges and fire pits.
Intercontinental intends to infuse fresh capital into the property, renovating unit interiors, and improving exterior and common areas to enhance the community's competitive position in the marketplace.
"Phoenix has exhibited strong job and population growth trends. The combination of the Property's intrinsic qualities and Phoenix's projected future growth prospects make Garden Grove an attractive opportunity to expand Intercontinental's presence in the market," said Intercontinental's Senior Director, Acquisitions, Jessica Levin.
"Those migrating to Phoenix for its relative affordability and employment opportunities, are finding a limited supply of multifamily housing that meets the demands of today's renter," added Intercontinental's Director, Acquisitions, Allen Logue. "While Garden Grove already benefits from its central infill location, spacious unit interiors and superior amenities, once renovations are complete, Garden Grove is poised to be one of the most desirable multifamily properties in the market."
Since 2010, only eight communities have been built in a 29-square mile area, and only two multifamily communities within three miles of Garden Grove, according to CBRE Vice Chairman Tyler Anderson, who along with Sean Cunningham, Asher Gunter and Matt Pesch, marketed the opportunity on behalf of the seller.