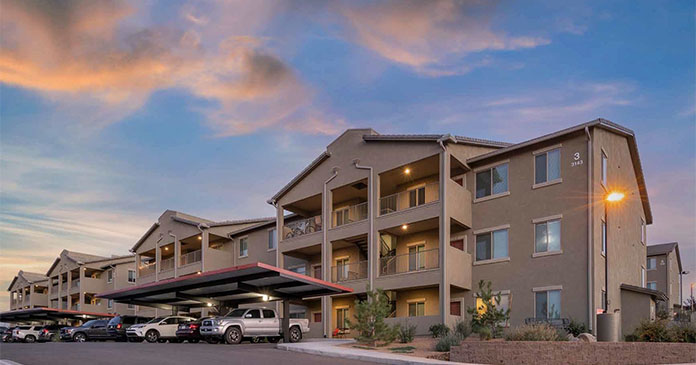 Next Wave Investors, LLC (Next Wave), a private equity firm focused on value-add multifamily investments, has acquired Willow Creek Apartments, a 160-unit garden-style apartment community in Prescott, Arizona, for $58 million.
The firm has been highly active in the Arizona market since 2016, successfully bringing several multifamily assets located throughout Phoenix and Tucson full cycle, according to Jordan Fisher, Principal at Next Wave.
"We've been consistently identifying opportunities in the Arizona market for some time and have been looking to expand into additional cities such as Prescott that offer a high quality of life for residents," says Fisher. "The city has experienced robust growth over the past decade, with its population increasing by 16.28 percent since the most recent census in 2010, and is currently growing at a rate of 2.24 percent annually. Located just 1.5 hours north of Phoenix, Prescott is a highly sought-after destination for people relocating to Arizona."
Fisher adds that Willow Creek Apartments is one of only three market-rate communities constructed in the high-barrier-to-entry Prescott market over the past 20 years and occupies a strategic position within the city's ongoing growth and lack of multifamily supply.
"While built in 2019, the property represents a strong value-add opportunity, as we've identified several ways to upgrade and enhance all 160 units and common areas," continues Fisher. "Next Wave will renovate the units to a consistent, premium finish-level, and make strategic improvements to exteriors and amenity spaces. These upgrades help bolster the overall image and curb appeal of the property and contribute to providing significant upside in rent premiums."
David Sloan, Principal at Next Wave, adds: "Our team's expertise in identifying value-add opportunities, our strong reputation, and large network allows us to strategically enter markets like Prescott that promise sustained long-term growth. As Next Wave continues to enter key high-growth secondary markets, we aim to improve value and resident experience though renovation and ongoing management of our communities, ultimately delivering strong, reliable returns to our investors."
Sloan notes that the property is proximate to Downtown Prescott, home to the historic Whisky Row and Elk Theater, as well as Prescott Regional Airport. Willow Creek residents will also benefit from its close proximity to hiking and biking trails, Embry-Riddle Aeronautical University, Heritage Park Zoological Sanctuary, Willow Creek Reservoir, and an abundance of shopping and dining experiences. The property also gives quick access to major freeways including State Routes 89, 93, and 69, and Interstates 17 and 40, which lead to Flagstaff and Greater Phoenix.
The region also benefits from a strategic mix of mainstay industries including healthcare, education, distribution, consumer services, and government and social services, featuring employers such as Dignity Health, Sturm Ruger Company, Ace Hardware, Mi Windows & Doors, Yavapai County, and Northern Arizona VA Healthcare Systems.
Willow Creek Apartments features an attractive mix of fully equipped modern studio, one- and two-bedroom apartment homes with nine-foot ceilings, custom dark wood cabinetry, and full-size washers and dryers.
The property also has a variety of community amenities including a clubhouse, business center, lounge, fitness center, courtyard and covered parking.