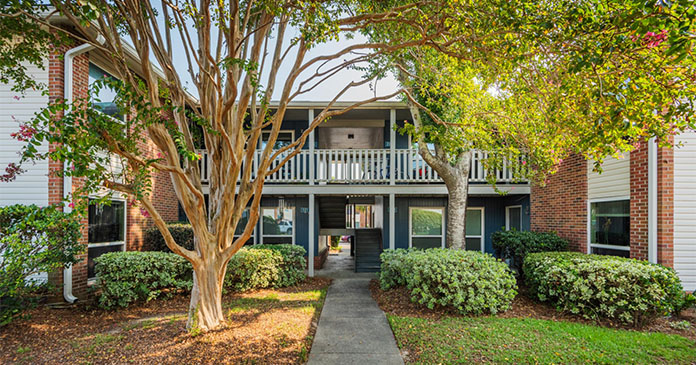 Trion Properties, a private equity real estate firm based in West Hollywood, California and Miami, Florida specializing in multifamily investments, has expanded its Southeast presence with the acquisition of Latitude at West Ashley, a 312-unit multifamily community in Charleston, South Carolina for $51.8 million.
The firm entered the Southeast market in September with the acquisition of Crescent Commons, a 288-unit multifamily community in Fayetteville, North Carolina, followed by the purchase of Patterson Court, a 384-unit luxury multifamily community in Orlando, Florida, in November. This continued growth within the region speaks to the firm's strong reputation and ability to rapidly expand into new markets based on strong relationships and a deep understanding of the multifamily investment market and trends, according to Max Sharkansky, Managing Partner at Trion Properties.
"Charleston is a lucrative market that we have been actively looking to expand into as we continue to strategically acquire properties in areas that have proven resiliency and are experiencing population and employment growth," says Sharkansky. "Latitude is an ideal asset as it's situated on the east side of the West Ashley submarket, which is less than 10 minutes from downtown Charleston and the Charleston airport, the two largest employment centers in the area. These strong employment fundamentals are met with a growing population that will help generate long term renter demand for the property."
Marley Dominguez, Director of Acquisitions at Trion Properties, adds: "The Charleston region's population is increasing three times faster than the U.S. average, boasting 33 new residents each day. A growing list of major corporations and industrial tenants have opened facilities in the area, lured by tax incentives and quick access to the expanding Port of Charleston."
Trion recognized Latitude as especially well positioned to benefit from the increase in population and employment based on the limited supply of quality housing in the area. In the last 12 months, no new supply has come to market and no large-scale projects are currently under way that will be able to deliver competing new units in the next five years. The lack of incoming supply will allow the property to benefit from organic upwards pressure on rents that will be enhanced through the implementation of the firm's best-in-class renovation program, Dominguez notes.
"This acquisition will allow us to create significant value through executing our proven renovation and operations strategies," says Dominguez. "Current ownership has focused primarily on curing deferred maintenance, minor exterior renovations, and minimal interior upgrades. There are notable opportunities to improve landscaping, paint the dated exterior, and create additional amenities such as a dog park, playground, and additional BBQ areas. These additions will significantly improve quality of life for residents and strengthen investor returns."
Constructed in two phases in 1968 and 1973, Latitude at West Ashley consists of one-, two-, and three-bedroom units averaging 954-square feet. Approximately half of the units are townhome style. The community is comprised of 22 two-story wood-framed buildings, as well as a pool deck with BBQ grills and cabanas, fitness center, and on-site laundry facilities.
Latitude at West Ashley is bordered by the Ashley and Stono Rivers, creating the breathtaking scenery for which Charleston is known. Situated seven miles due west of Downtown Charleston, residents are a quick drive to all downtown has to offer. Nearby Interstate 526, which feeds directly into Charleston's Interstate Highway 26, gives residents a fast and easy route in and out of area. Community residents also enjoy close proximity to the area's only indoor mall, the Citadel Mall, and a large number of big-box stores.
Latitude at West Ashley is located at 1735 Ashley Hall Rd, Charleston, SC 29407.