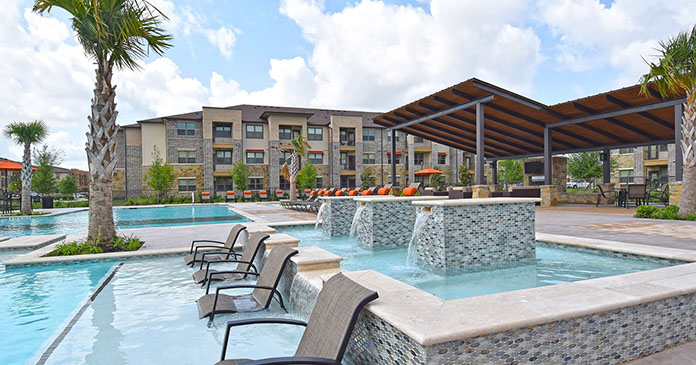 Berkadia has arranged the contribution and finance of the Southstar Sunbelt Multifamily Portfolio, a four-property portfolio consisting of 1,115 apartment units in Texas and Florida. Senior Managing Directors Chris Curry and Todd Marix, along with Managing Directors Jeffrey Skipworth, Joey Rippel and Chris Young and Director Kyle Whitney of Berkadia Houston, marketed the portfolio on behalf of Southstar Properties. MLG Capital is the buyer.
Senior Managing Director John Koeijmans and Associate Director Austin Blankenship of Berkadia Dallas arranged the financing on behalf of MLG Capital through Fannie Mae for three of the four properties: Parkland at West Oaks, Radius at Shadow Creek and West Creek. MLG Capital assumed the existing loan on Savona Grand.
"Southstar was seeking a tax-deferred exit strategy and was pursuing a contribution to a REIT or Fund, and MLG Capital was looking for assets to seed its Legacy Fund," said Curry. "Given the uncertainties of future tax policy, we expect that tax deferred transactions and creative exit strategies will be in high demand by family offices and private owners moving forward."
The properties in the portfolio are:
Parkland at West Oaks (323 units) located at 2600 Westhollow Drive in Houston, Tex.
Radius at Shadow Creek (350 units) located at 2400 Business Center Drive in Pearland, Tex.
West Creek (228 units) located at 2211 Montgomery Park Boulevard in Conroe, Tex.
Savona Grand Apartments (214 units) located at 7132 Colony Club Drive in Lake Worth, Fla.