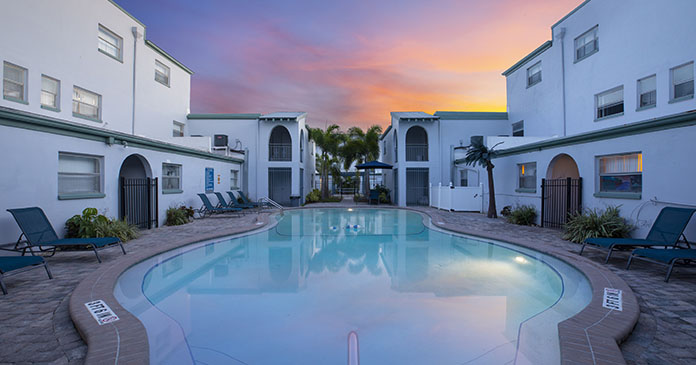 Cushman & Wakefield announced that the commercial real estate services firm has arranged the sale of The Madeira Apartments, a 138-unit multifamily community located at 7533 38th Avenue N.
Nick Meoli and Mike Donaldson of Cushman & Wakefield represented the seller, GPK Holdings, LLC, in the transaction. The property was acquired by Lyfe Properties Group.
"The Madeira Apartments is a well maintained partially renovated community minutes from world renowned beaches and centralized in a high growth market," said Meoli, Executive Managing Director at Cushman & Wakefield. "Even though 68 percent of the community has been partially renovated, there is still a significant value-add opportunity. The buyer intends on building off of existing renovations by enhancing the property's amenity package and further improving the units."
The Madeira Apartments consists of nine residential buildings and a desirable unit mix of one, two- and three-bedroom floor plans. Key features of the property include on-site laundry, courtyards with gazebos and grilling stations, a swimming pool with a paved sundeck and easy access to four of the nation's top beaches along with Downtown St. Petersburg.
"The transaction volume over the last 12 months in St. Petersburg has been limited on value-add opportunities like the Madeira," added Donaldson, Executive Managing Director at Cushman & Wakefield. "As a result, this property generated a significant amount of interest from investors all over the country who were attracted to the rent growth in the area and the opportunity to enter a high barrier to entry market."