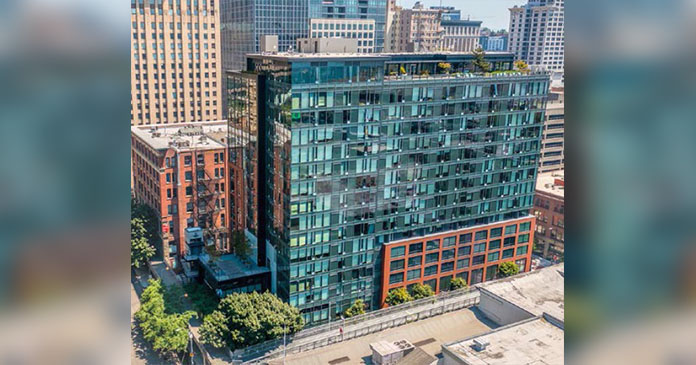 PCCP, LLC has provided a $75 million senior loan to Griffis Residential for the acquisition and repositioning of The Post, a 16-story, 208-unit apartment property located at 888 Western Avenue in downtown Seattle.
Situated at the intersection of the Seattle Central Business District, Waterfront, and Pioneer Square submarkets, the property is within blocks of the Link Light Rail, Seattle Streetcar, Amtrak Cascades, King Street Station, and the Seattle Ferry Terminal.
"The Post marks PCCP's fifth transaction with Griffis," said Dorian Farhang, Vice President with PCCP. "While the downtown Seattle apartment market has softened since the onset of the pandemic, PCCP believes it has recently established a positive trendline to recovery and the property is poised to undergo enhancements to management, operations and capital improvements."
The Post's units feature quartz countertops, vinyl-plank flooring, steel appliances, floor-to-ceiling windows, and views of downtown Seattle, Elliott Bay, and the Olympic Mountains.  Community amenities include a rooftop deck featuring grilling areas and a reflection pool, multiple rooftop lounges, media room, dog run, yoga studio, library and fitness center. While the property already benefits from Class A finishes and abundant on-site amenities, Griffis' capital plan focuses on taking the finishes and amenities to top-of-market quality with a focus on modernization to contemporary standards.
The Post is also set to directly benefit from Seattle's on-going Waterfront project. Spanning from Pioneer Square to Belltown, this City of Seattle project is a multi-year program to rebuild the area with the intent of creating a "Waterfront for All." The program includes improved street access to and from downtown and 20 acres of parks and paths. Access to Elliott Bay is already much improved with the removal of the Alaskan Way Viaduct in 2019. In 2020, the City finished rebuilding the portion of Columbia Street directly adjacent to the property with new transit lanes and improved sidewalks. On-going redevelopments include a landscaped promenade one block from the asset.