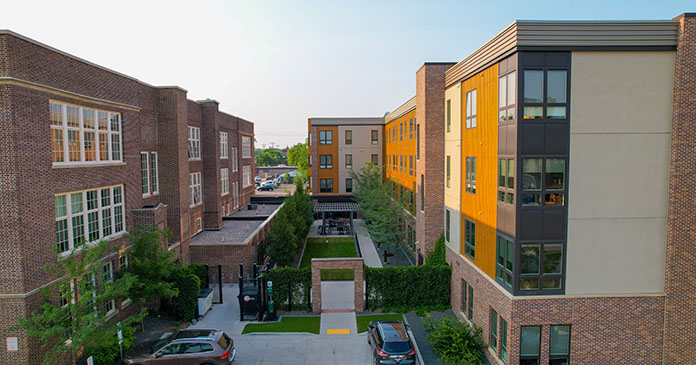 JLL Capital Markets announced that it has closed the $19 million sale of Woodrow Apartments, a 97-unit apartment complex located in Fargo, North Dakota.
JLL marketed the property on behalf of local Fargo-based seller, Kilbourne Group. Graystoke Capital Partners, based out of Boise, Idaho, acquired the asset.
The Woodrow Apartments blends a stunning renovation of the 100-year-old, historic Woodrow Wilson School into 34 units, with a new addition, featuring 63 Class-A apartments that was completed in 2017. This adaptive re-use project features best-in-class amenities such as a multi-purpose gym (the school's own original gym), heated underground parking, a community lounge and game room and outdoor patio with a pergola, fire pit and gas grills. The apartments feature units with central air-conditioning, an in-unit washer and dryer, quartz countertops and walk-in closets.
Situated at 1222 4th Ave. N., the property is located within downtown Fargo, which offers residents access to over 300 unique retail stores, two million square feet of office space and over eight breweries in the immediate area. Both Broadway and Roberts Alley provide walkable dining options near the community. Additionally, the complex is in close proximity to North Dakota State University, Sanford Health and Hector International Airport.
"When Kilbourne Group set out to redevelop the century-old schoolhouse in downtown Fargo, we truly wanted to honor the building and its history," said Kilbourne Group President Mike Allmendinger. "We knew a building with such a strong history would most certainly have a bright future in this emerging neighborhood. We are grateful to the City of Fargo's efforts to promote core neighborhood infill and historic renovation projects through economic development policies which make them viable. Without them, this project would not have happened."
The JLL Capital Markets Sales and Advisory team representing the seller was led by Senior Director Adam Haydon and Managing Directors Mox Gunderson, Dan Linnell and Josh Talberg.
"Woodrow Apartments received multiple offers from groups located across the country, ultimately trading for a new price per unit record for an apartment project in the Fargo MSA. We are seeing groups from major markets like San Francisco, New York and Los Angeles bidding very aggressively on apartment assets in secondary and tertiary markets in the Midwest as they look for market stability and yield arbitrage," said Haydon. "Downtown Fargo is going through an amazing development cycle, energized by the recently completed RDO Building. The buyer is purchasing a true Class-A asset in a high-growth market with proven upside potential."
JLL Capital Markets is a full-service global provider of capital solutions for real estate investors and occupiers. The firm's in-depth local market and global investor knowledge delivers the best-in-class solutions for clients—whether investment and sales advisory, debt advisory, equity advisory or a recapitalization. The firm has more than 3,000 Capital Markets specialists worldwide with offices in nearly 50 countries.