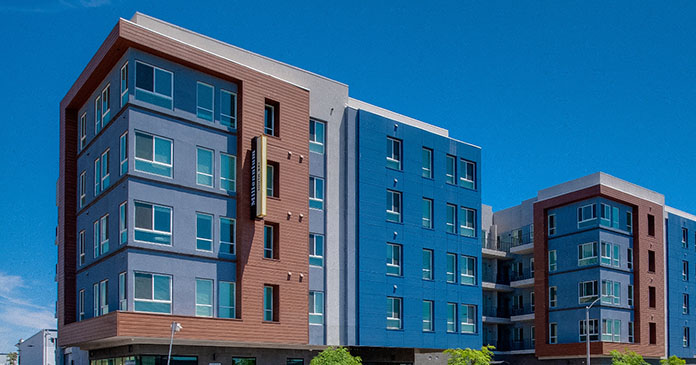 Standard Communities, a leading affordable housing investor and developer,has led a public-private partnership that acquired Millennium South Bay Apartments, a 230-unit community in Hawthorne, Calif., utilizing California's innovative public-private partnership structure designed to facilitate the creation of middle-income housing.
Standard collaborated with Faring, CSCDA Community Improvement Authority and the City of Hawthorne on this acquisition.
The purchase price of this transaction is approximately $140 million. As part of the project capitalization, at closing the owners set aside $17.5 million in cash reserves to support the successful long-term operation and physical condition of the community.
In August, Standard Communities and Faring announced a joint venture, Standard-Faring Essential Housing, to create over $2 billion of "missing-middle" housing throughout California through both ground-up development and the acquisition and conversion of existing market-rate properties.
Millennium South Bay is the fifth middle-income housing transaction by Standard-Faring Essential Housing. These transactions have collectively created over 1,200 middle-income units, including the 349-unit Monterey Station Apartments in Pomona, CA, acquired in December.
Employing tax-exempt bond financing, CSCDA can acquire multifamily projects to provide much-needed housing for the middle-income and essential workers throughout California. CSCDA, upon taking ownership, works with Standard Communities as Project Administrator to immediately lower rents for new residents who qualify with incomes between 80% and 120 percent of the Area Median Income (AMI).
"This public-private Partnership to create workforce housing will ensure that middle-income families and essential workers can afford to live in a high-quality transit-oriented and mixed-use property, close to their work and many neighborhood amenities. Two-thirds of the units are reserved to those making below $82,000 a year, with one-third reserved for those making at or below $66,000 a year," said Chris Cruz, Standard Communities' Managing Director of Essential Housing.
Millennium South Bay Apartments, a fully amenitized community located at 12530 Crenshaw Boulevard in Hawthorne, is a mixed-use development of 230 studio, one- and two-bedroom apartments. Built in 2021, the five-story community sits on 2.5 acres and features ground-floor restaurant and retail space. The transit-oriented middle-income community is located only two blocks from the Metro's Green Line Crenshaw Station and its amenities include a luxury pool deck, dedicated coworking spaces, a state-of-the-art fitness center, a social lounge and resident bar, and outdoor courtyards.
Millennium South Bay is LEED Gold certified and has a solar array producing 250,000kWh per year, offsetting roughly 195 tons of carbon dioxide, which is equivalent to 445,000 miles driven by an average car per year.
"The average single-family home in Hawthorne costs over $900,000, but the average salary for teachers, firefighters, police officers and other essential workers is below $70,000. Creating this transit-oriented and mixed-use community for middle-income essential workers will have a huge benefit for the City of Hawthorne," said Jeff Jaeger, Los Angeles-based Co-Founder and Principal of Standard Communities.
"Fifty-five percent of renters in Hawthorne spend a third or more of their income on housing. Faring is pleased to partner with Standard Communities, the CSCDA, and the city of Hawthorne to make luxury living more affordable to essential workers and middle-income families," said Jason Illoulain, CEO of Faring.