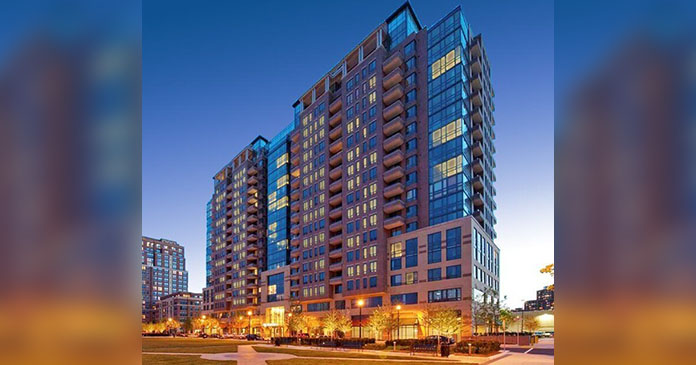 An affiliate of The UIP Companies, Inc. (UIP) and an affiliate of Churchill Living (CRE) have acquired The Millennium, a 300-unit apartment community directly across Metropolitan Park from Amazon's new HQ2. The 19-story tower was purchased from Clarion Partners, represented by Bill Roohan of CBRE. KKR Real Estate Finance placed a $135 million first trust mortgage on the property.
Located at 1330 South Fair Street in Arlington, VA, Millennium was the first of several planned residential structures overlooking the two-acre Metropolitan Park. After Amazon selected National Landing for its massive new HQ2, the last two sites slated for residential use became the location for Amazon's two main headquarters buildings, which are now under construction. Amazon is spending over $14 million to renovate the park, and will bring popular retailers to the first floors of its office buildings.
Millennium also will engage the community with new shops and restaurants. UIP plans to convert the current street-level lobby and office space to 5,000 square feet of new retail space to be operated by an upscale restaurant, which will create an indoor/outdoor café and dining amenity facing the park.
Inside, UIP plans a $9 million renovation of the building's common areas and individual apartments, focusing on high-tech and high-end features. "We are going to make these apartments the coolest and most desirable homes on the park," said Steve Schwat, UIP Founding Principal. "Features will include awesome kitchens, spa-like bathrooms with Bluetooth-enabled lighted medicine cabinets, under cabinet lighting, tiled back splash walls, high-end customizable closets, electric roller blinds, and more. We envision residents being able to walk into their home and say 'Alexa, open the blinds'."
"This twelve-year-old asset fits right into the value-add renovations that we do best," Schwat added. "We are excited about everything Amazon is bringing to the vibrant, fast-growing National Landing community."
In addition to a $135 million first trust from KKR, UIP raised $78 million, some of it raised through crowdfunding platform CrowdStreet.
Amazon's HQ2 is expected to have some 25,000 employees by 2030. Through the economic "multiplier" effect, those 25,000 jobs are expected to catalyze over 185,000 more direct and indirect jobs by 2035, greatly increasing demand for housing and other services in the area.
Churchill Living is taking up to 150 apartments in the building, over time, to service their extensive base of government and private-sector clients.
UIP Property Management, Inc. will manage the property.