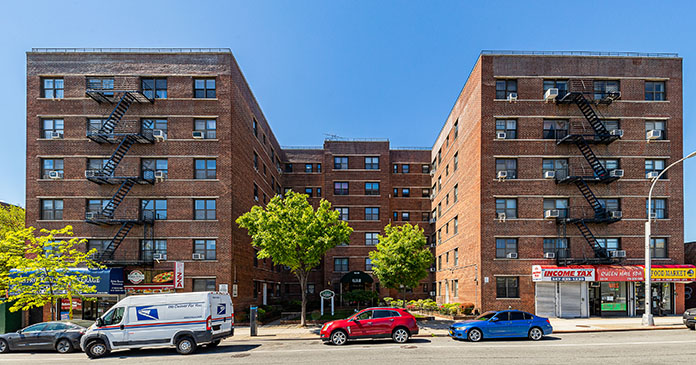 Avison Young's New York office announced that its Tri-State Investment Sales Group has arranged the sale of 92-40 Queens Boulevard, a mixed-used residential building also known as "The Calmar" in Rego Park, Queens, for $15 million. Spanning 68,700 square feet (sf), The Calmar is currently 97 percent occupied and comprises 60 residential units, of which approximately 88 percent are rent stabilized, five retail tenants and two commercial occupants.
Avison Young Principal & Head of Tri-State Investment Sales James Nelson, Principals Neil Helman, Charles Kingsley and Jon Epstein, Director Frederick "Fritz" Richter and Senior Associate Bradley Rothschild represented the seller, Feil Organization, in addition to procuring the buyer, A&E Real Estate Holdings, who was advised by Aaron Jungreis of Rosewood Realty Group in the negotiations.
"At 97 percent occupied, The Calmar presented the buyer with a stable, diversified steam of income across the property's commercial and residential tenants," said Kingsley. "In just under six weeks, our team successfully hosted a competitive bid-deadline process that resulted in over 17 qualified offers and ultimately secured a qualified purchaser at a 4.6 percent cap rate."
Located at 92-40 Queens Boulevard, The Calmar's residential portion comprises 51,374 sf of one-, two- and three-bedroom residences, with 53 rent stabilized units and seven fair market. As a result, the property captures close-to-market rental rates across the board while concurrently benefitting from the tenant stability associated with the building's regulated profile. The property's five retail tenants include a convenience store, pizza shop, nail salon, real estate brokerage and tax attorney while a dentist's office and data center occupy the two commercial spaces on the first floor of the building. The Calmar also includes 16 garages, four of which are fair market and 12 are rent stabilized.
"We have owned and maintained this property for 50 years. It has come time that we move on and redeploy into another asset. We wish the new owners as much success as we have had," added Jeffrey Feil, Chief Executive Officer of the Feil Organization.