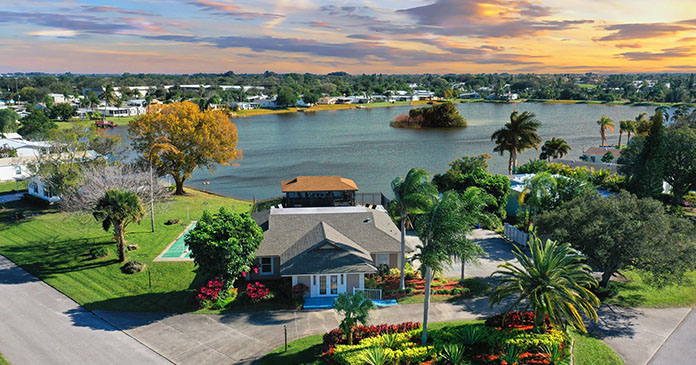 Capital Square 1031, a leading sponsor of Delaware statutory trust (DST) offerings for Section 1031 exchange and other accredited investors, announced the acquisition of a 55+ manufactured housing community in Sebastian, Florida. The community was acquired on behalf of CS1031 Palm Lake Club MHC, DST.
"This is Capital Square's 10th acquisition of an age-restricted (55+) manufactured housing community in Florida for the 1031/DST program," said Louis Rogers, founder and chief executive officer of Capital Square. "MHC properties in Florida are among the most desirable assets in the nation due to their scarcity, stability and growth potential. Also, MHC assets solve a need for residents as an affordable housing option, providing most benefits of a single-family home with the low cost of multifamily housing. For these reasons, Capital Square's 1031 exchange investors are flocking to MHC investments for stable income and appreciation."
Situated at 39 Treasure Circle in the rapidly growing Indian River County, Palm Lake Club is a 97.6 percent occupied community with 126 homesites. The property's proximity to U.S. Highway 1 and Interstate 95 connects it to Vero Beach and offers additional access to Port St. Lucie, West Palm Beach and Boca Raton.
Palm Lake Club is close to parks, shopping, golf courses and wildlife preserves. Onsite amenities include a heated pool, clubhouse, library, recreational facilities, a shuffleboard court and a seven-acre lake surrounded by resident homes.
CS1031 Palm Lake Club MHC, DST seeks to raise $24.3 million in equity from accredited investors.
"Palm Lake Club is a well-positioned asset that offers investors significant upside potential through a value-add execution due to minimal rent escalations over the past 10 years combined with room for strategic improvements," said Whitson Huffman, chief strategy and investment officer with Capital Square. "Capital Square intends to make investments into the community that will include upgrades to the clubhouse, landscaping, outdoor lighting, roadways and other amenities that will further enhance the value of the property to residents and investors alike."
Since its founding in 2012, Capital Square has acquired 148 real estate assets for over 3,800 investors seeking quality replacement properties that qualify for tax deferral under Section 1031 of the Internal Revenue Code and other investors seeking stable cash flow and capital appreciation.