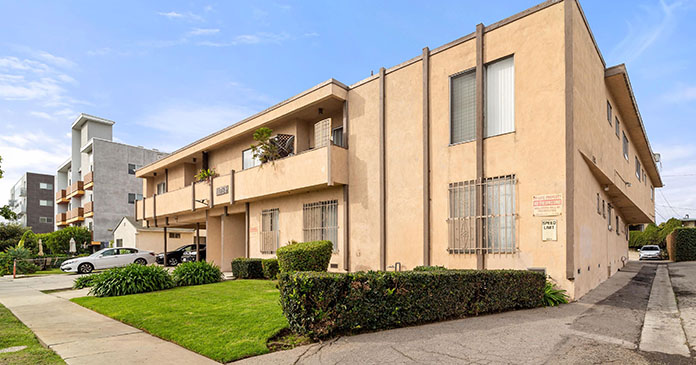 Institutional Property Advisors (IPA), a division of Marcus & Millichap, announced the sale of the Venice-Mar Vista Portfolio, a six-property, 99-unit multifamily portfolio in the Westside region of Los Angeles, California. Following a brief marketing period in January 2022, the value-add portfolio, built between 1961-1971 and placed on the market for the first time by the family of the original developer, sold for $30 million.
"After a very quick marketing process, we were able to procure a buyer that was non-contingent at contract signing and closed the sale of all six properties in just seven days, meeting and exceeding the strict requirements of ownership," said Kevin Green, IPA executive director. "The assets are in Los Angeles County's 'Silicon Beach' area near thousands of high-paying jobs in technology, healthcare, law, and entertainment. Average annual household income in the submarket is over $120,000, and yet with the median price of a single-family home in the $2 million range, 75 percent of the area's population are renters."
Green, Peter Castleton, executive vice president of Voit Real Estate Services, and IPA's Joseph Grabiec and Greg Harris represented the seller, a family trust, and procured the buyer, LA Apartments. "West LA's economic expansion is elevating the area's desirability," added Grabiec. "In the last five years, the median price of a single-family residence has risen 41 percent."
The properties are:
11735 Culver Blvd., 17 units built in 1962
11964 Lindblade St., 14 units built in 1968
4316 Berryman Ave., 10 units built in 1961
2712 Abbot Kinney Blvd., 18 units built in 1965
711 and 715 Machado Dr., 24 units built in 1971 and 1970
450 S Venice Blvd., 16 units built in 1968
Residents are close to employment centers throughout the Westside Los Angeles area, and companies such as Apple, Microsoft, Alphabet, Amazon and Facebook are nearby.