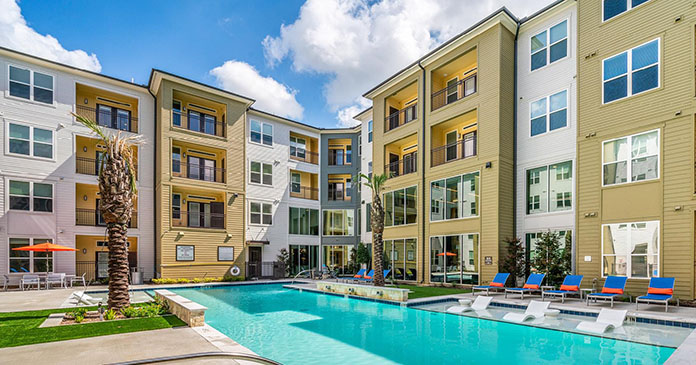 Institutional Property Advisors (IPA), a division of Marcus & Millichap, announced the sale of The Edge at Langham Creek, a 115-unit, newly constructed apartment asset in Houston, Texas.
"The property has exceptional curb appeal, luxurious unit features, and a competitive, highly desirable amenity set," said Gregory Austin, Marcus & Millichap senior managing director of investments. "This asset was awarded pre-stabilized and was competitively bid on, which speaks to the strength of the market," added Jennifer Campbell, IPA director. Gregory Austin and Travis Austin of Marcus & Millichap in conjunction with Campbell, Jaleel Adatia and IPA's Will Balthrope, represented the seller, HS Development Group, and procured the buyer, Lamppost Capital Management. Jamie Safier, Brandon Brown and Jamie Mullin of Marcus & Millichap Capital Corporation arranged acquisition financing.
"With the leadership of HS Development, combined with an impressive lease-up execution by Tarantino Properties, the property stabilized in under a year," added Adatia. "Strong fundamentals in the submarket also played a major role in the buyer demand with concessions burning off and absorption in the submarket being well north of 1,200 units in the immediate submarket throughout 2021."
Completed in 2021, The Edge at Langham Creek sits on three acres and is located five miles north of Interstate 10, off Highway 6. Residents can walk to restaurants, retail, grocers, and a movie theater. Major employers in the Energy Corridor include Wood Group, BP America and Technip USA. The amenities at the property include indoor breezeways, a swimming pool and a demonstration catering kitchen. Apartments have stainless-steel appliances, modern lighting, and custom cabinetry. The average unit size is 938 square feet.
"Marcus & Millichap works coast to coast providing real estate, mortgage brokerage, and advisory services for all of our multihousing clients," said Austin.
"IPA in Texas provides investors with a large inventory of high-quality multifamily investment opportunities in every market, offering local market research and sales expertise in Dallas-Fort Worth, Houston, Austin and San Antonio," said Balthrope.