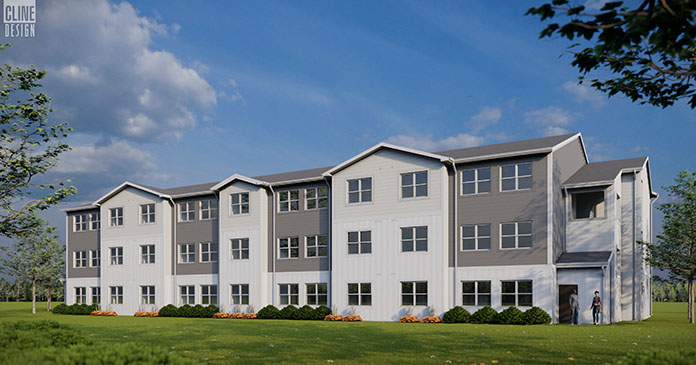 PCCP, LLC and Alliance Residential Company have formed a joint venture for the ground-up development of Prose New Hope, a 344-unit garden-style apartment community located at 4100 Buffaloe Road in Raleigh, NC. Construction has commenced, and the first units are expected to deliver in 2023.
The workforce housing community will be built with efficient unit/building layouts to deliver affordable units at a discount to the metro area's luxury, Class A product. The property's unit mix will include 172 one-bedroom units with an average size of 836 square feet, and 172 two-bedroom, two-bathroom units with an average size of 1,188 square feet. The property will also contain an approximately 3,000-square foot amenity center with a tenant lounge, pool and fitness room.
"PCCP is pleased to partner with Alliance Residential, a multifamily developer with a depth of experience in developing this asset type," said Brian Haber, Senior Vice President with PCCP. "The Raleigh-Durham market continues to be a hotbed for job growth, which creates the need for affordable living options throughout the region," said Andrew Barbakoff, Vice President with PCCP.
Situated on 15.67 acres, the project is less than one mile from Route 401, providing residents access throughout the Raleigh-Durham region. It also offers a diverse mix of retailers, restaurants, and major employment hubs with 50,000 jobs within a five mile-radius of the property. The East Raleigh neighborhood is also near several parks and historical sites, the HBCU Saint Augustine University's main campus, and the Buffaloe Road Aquatic Center, an indoor pool/water park.