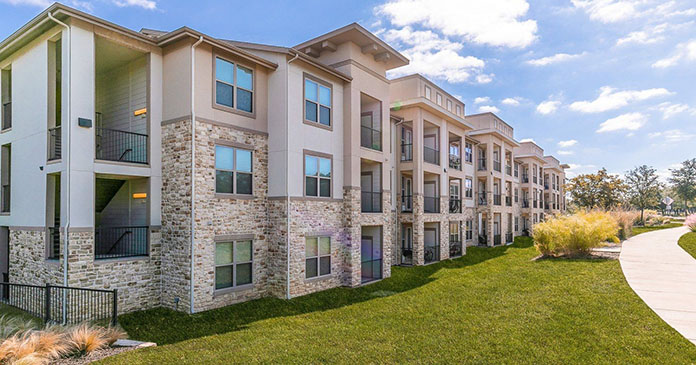 JLL Capital Markets announced that it has arranged $38.45 million in acquisition financing and secured the equity for Summit at Rivery Park, a 228-unit multihousing community located in the Austin-area community of Georgetown, Texas.
JLL worked on behalf of Austin-based sponsor, Old Three Hundred Capital, to arrange a joint venture equity partnership with Sound Mark Partners. Additionally, JLL secured the five-year, non-recourse, floating-rate acquisition loan through Vancouver-based QuadReal Finance, Inc. on behalf of the new partnership. JLL has now financed a total of 1,350 units for Old Three Hundred Capital since the onset of the COVID-19 pandemic.
"Summit at Rivery Park is well-positioned for growth with its location in one of the most sought-after suburbs of arguably the hottest real estate market in the country," said OTH Capital Managing Partner William Gottfried. "We are thrilled to add it to our portfolio and continue executing on our strategy of acquiring Class A assets in Austin's expanding metropolitan footprint."
Situated on 32 acres, Summit at Rivery Park is part of the first high-end, mixed-use development in Georgetown, Texas. Built in 2015, the community offers one-bedroom units ranging from 576 square feet to 772 square feet, two-bedroom units of either 1,013 or 1,092 square feet and three-bedroom units of 1,410 square feet. The larger development project is anchored by a 4-Star Sheraton Hotel and Conference Center, with additional development of office, restaurant, retail, luxury loft apartments and single-family townhomes that are near full capacity. The partnership plans to implement a property improvement plan that includes interior unit refreshes and updates.
Situated at 1400 Rivery Blvd., the property is less than 30 miles north of Austin and overlooks the North San Gabriel River near IH-35. It offers direct connection to the San Gabriel River Trail and is a short walk to the entertainment and dining in downtown Georgetown's City Square.
The JLL Capital Markets Advisory Team representing the borrower was led by Senior Director Marko Kazanjian, Senior Managing Director Max Herzog and Associate Andrew Cohen out of the New York City office, along with Senior Director Chris McColpin out of the Austin office.
"Between the OTH and Sound Mark joint venture and the QuadReal team, I could not have drawn up a better group of partners and lenders for this extremely smooth acquisition," said Kazanjian.
JLL Capital Markets is a full-service global provider of capital solutions for real estate investors and occupiers. The firm's in-depth local market and global investor knowledge delivers the best-in-class solutions for clients—whether investment and sales advisory, debt advisory, equity advisory or a recapitalization. The firm has more than 3,000 Capital Markets specialists worldwide with offices in nearly 50 countries.