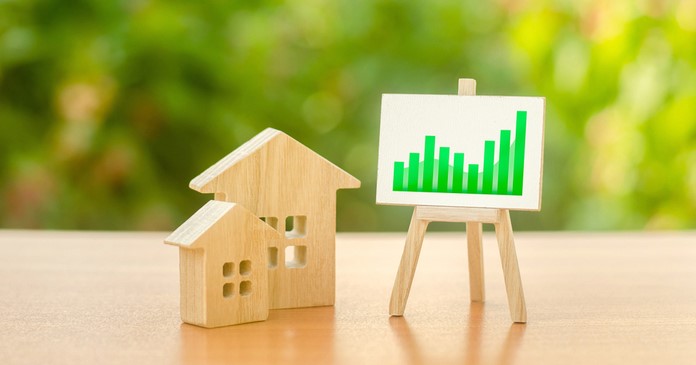 The latest rent report from Yardi Matrix shows that apartment rents are continuing to rise this year even during the winter months when they are usually flat. However, the pace of rent increases is down from that of recent months.
Rents gains moderate
Yardi Matrix reported that the national average apartment rent rose $8 in January to $1,604 per month. The national average apartment rent was up 13.9 percent from its year-earlier level, a record for the Yardi Matrix dataset. Rents in the "lifestyle" asset class, usually Class A properties, rose 16.5 percent year-over-year, while rents in "renter by necessity" properties increased by 11.5 percent year-over-year.
Occupancy of multifamily rentals was up 1.3 percent year-over-year at 96.1 percent as absorption reached 460,000 units. This absorption figure was lower than that reported elsewhere, but was more than 50 percent higher than the previous annual high in the data series.
Rents were up on a year-over-year basis in all of the top 30 metros covered by Yardi Matrix. The rent figures being tracked by Yardi Matrix are asking rents for vacant units. Rent growth for lease renewals is lower.
Yardi Matrix reported that SFR rents were up 13.5 percent year-over-year in January. Occupancy of single-family rentals was up 0.2 percent compared to last January's level.
Rent growth
Of the top 30 metros by population, the ones with the largest annual apartment rent increases as ranked by Yardi Matrix are given in the table, below, along with their annual percentage rent changes.
| | |
| --- | --- |
| Metro | YoY rent change % |
| Tampa | 24.5 |
| Phoenix | 24.2 |
| Orlando | 23.4 |
| Miami Metro | 23.0 |
| Austin | 22.0 |
| Las Vegas | 21.8 |
| Raleigh | 19.5 |
| Charlotte | 18.9 |
| Orange County | 18.7 |
| Inland Empire | 18.4 |
The major metros with the smallest year-over-year apartment rent growth as determined by Yardi Matrix are listed in the next table, below, along with the year-over-year rent increases for the metros.
| | |
| --- | --- |
| Metro | YoY rent change % |
| Twin Cities | 5.0 |
| Kansas City | 7.2 |
| San Francisco | 7.6 |
| Philadelphia | 10.0 |
| San Jose | 10.1 |
| Washington DC | 10.4 |
| Houston | 10.9 |
| Indianapolis | 11.4 |
| Chicago | 11.4 |
| Los Angeles | 11.5 |
Assessing the multifamily property market
The discussion section of the report this month focused on the prospects for the market for multifamily properties. It suggested that investors have a strong interest in multifamily property, as well as in industrial property. It pointed to record transaction volume and record per unit pricing in 2021 as evidence of this fact.
Yardi Matrix cited a report from Freddie Mac forecasting a rise in multifamily mortgage activity in 2022 and the increased availability of mortgage capital from other sources as indications that investment activity may continue strong in 2022.
SFR outperforms
Yardi Matrix also reported on the top 30 metros for single family rentals. The leading metros for year-over-year rent growth were Tampa, Miami and Atlanta. All 30 of the metros covered saw positive rent growth for the year, although the number of metros seeing falling occupancy for the month rose to 12 this month.
The leading metros for year-over-year SFR occupancy growth were San Antonio, Houston and Austin. Sacramento, Orange County and Pittsburgh saw the greatest SFR occupancy declines.
The complete Yardi Matrix report discusses some of the smaller multifamily housing markets. It has more information about the larger multifamily markets including numbers on job growth and completions of new units. It also includes charts showing the history of rent changes in 18 of the top 30 markets over the last 4 years. It can be found here.