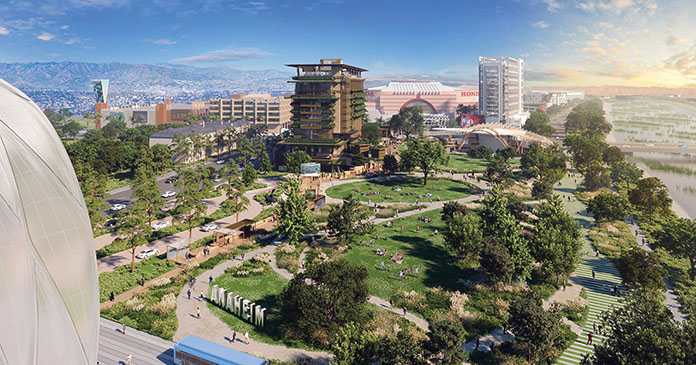 In November 2018, the Samueli Family, owners of the Anaheim Ducks purchased 10 acres of city-owned parking lots adjacent to Honda Center and finalized an agreement with the City of Anaheim, committing the Ducks to Anaheim and management of Honda Center until at least 2048 with options until 2073. The agreement paved the way for a series of private acquisitions by ownership, leading to their control of 115 acres surrounding Honda Center.
Development of the master planned 95-acre site located in the heart of Orange County will be led by Dan Young, former president of Irvine Company Community Development.
OCVibe will be a significant addition to Orange County—currently home to more than 3 million people.
The first phase of OCVibe is scheduled to open in 2024, with the full project completed in 2028. The site will become a showcase for the Summer Olympics when Honda Center hosts indoor volleyball.
The project includes:
A new 5,700-seat concert venue
Two hotels, with a total of 550 rooms
1,500-unit apartments
8,000 parking spaces/four structures
30 restaurants
10 acres of public park
With housing prices across Anaheim and broader Orange County reaching record highs, questions arise about how the luxury development will impact property values in Anaheim.
Anaheim spokesman Mike Lyster said that current homeowners may expect an increase in the value of their property following OCVibe construction. This could mean great news for residents looking to sell their homes in the next decade. "Our strategy as a city is to provide more housing. More housing will moderate the pricing of housing overall across the city," Lyster said.
Traffic in the area will also increase due to OCVibe attractions. City officials have conducted traffic studies ensuring arterial streets can handle higher volumes of traffic.
Anaheim Arena Management, which manages the Honda Center will take over transit operations in the area.
With Disneyland just three miles away, tourism to and from the park will be affected. Lyster said OCVibe would expand the market for tourism in the area, rather than directly compete with it.
"Rather than making us a one-day visit with Disney, OCVibe makes Anaheim a place people spend days, if not weeks," Lyster said. This is because tourists can stack their visits to the area with multiple events, such as Canadians who arrive to see their team play the Ducks at Honda Center, then visit Disney's theme parks the following day.
---
Excerpt Carol Cassis, Epoch Times