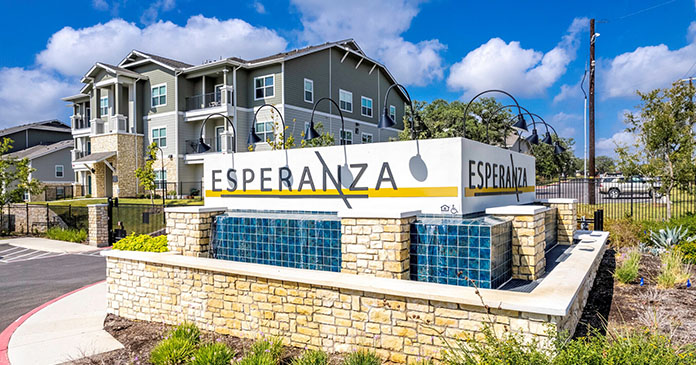 The Lynd Group has acquired a newly constructed garden-style apartment community in San Antonio, Texas for $49 million. The 244-unit Esperanza Apartments is in the Far West submarket near Highway 211 and close to one of San Antonio's largest employment centers. The transaction closed March 9.
Esperanza Apartments, built in 2020, features one, two, and three-bedroom units averaging 954 square feet. Residences are appointed with modern appliances, walk-in closets and outdoor balconies. The community offers residents an array of amenities including a resort-style pool, clubhouse, spacious fitness center, dog park and dog wash station, movie lawn and outdoor game court. The property is 95 percent occupied.
Although it has been an active buyer in other Texas markets, this is the first multifamily acquisition The Lynd Group has made in San Antonio in several years.
"Lynd is always excited when we get to add an asset in our backyard," said A. David Lynd, CEO of The Lynd Group. "We believe that this submarket has massive growth potential that will pay dividends in both rent and occupancy way into the future."
The Far West submarket is one of the strongest areas for growth in San Antonio. The population has increased by nearly 38 percent since 2010 and is projected to grow another 9% over the next five years. Westover Hills, which is located within five miles of Esperanza Apartments, is home to major Fortune 500 companies like JP Morgan Chase, Wells Fargo, Nationwide, and strong regional employers like Sea World, Frost Bank and the Southwest Research Institute.
The Esperanza Apartments is located at 14006 Potranco Road. Currently, there is a $93 million project to ease congestion by expanding the expressway along Loop 1604 from US 90 to Potranco Rd. and expand Potranco Rd. to five lanes from Loop 1604 to SH 211.
Not only was the location and renter demographic strong selling points for Lynd on this deal, but the company said it was also able to put together a strong financing package that should ensure a successful investment.
"With long-term fixed rate HUD financing, at our cost basis, we are positioned well to take advantage of any rent growth possible with great downside protection," said Constantine Scurtis, co-CEO of the Lynd Acquisition Group, a subsidiary of The Lynd Group.
The San Antonio acquisition was the second transaction The Lynd Group was involved with over a two-day period. On March 7, it sold a value-add apartment deal it acquired in suburban Houston nine months ago for $61.380 million. In June 2021, it paid $44.55 million for the 372-unit Paramount at Kingwood located in Humble.