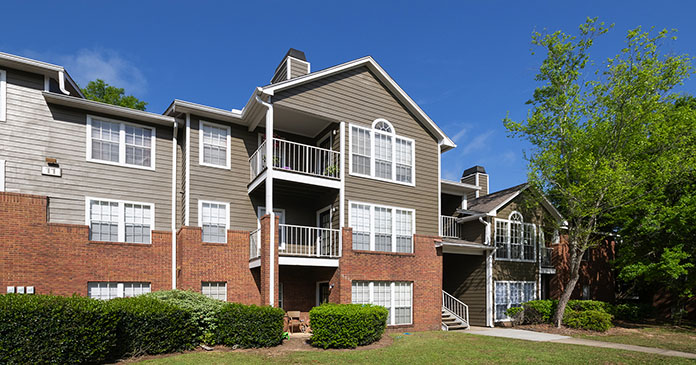 Cushman & Wakefield announced that the commercial real estate services firm has arranged the $121 million sale of the Gates 4 Portfolio, a collection of four multifamily properties located in Fairhope, Daphne and Mobile, Alabama.
Craig Hey, Jimmy Adams and Andrew Brown of Cushman & Wakefield represented the seller in the transaction. All the properties were acquired by Carter Funds.
"The four-property portfolio presented a great opportunity to acquire scale, below replacement cost, in tightening submarkets with rising rents," said Hey, Executive Director at Cushman & Wakefield. "New ownership plans to initiate a value-add strategy to capture the allure of the sophisticated and expanding renter pool on both the Eastern and Western sides of Mobile Bay."
The Gates 4 Portfolio totals 876 units and includes:
Arbor Gates, a 184-unit community located at 901 Gayfer Ave. in Fairhope
Ashley Gates, a 248-unit community located at 912 Van Ave. in Daphne
Lenox Gates, a 228-unit community located at 1500 Hillcrest Rd. in Mobile
Regency Gates, a 216-unit community located at 5700 Grelot Rd. in Mobile
Built between 1993 and 1999, the communities are situated in strong submarkets with close proximity to job drivers and quality retail. Mobile is emerging as the Gulf Coast's dominant corridor for shipping & aerospace. The city is attracting key players such as Walmart, Amazon, and Airbus (4,000+ new jobs).
Cushman & Wakefield's Sunbelt Multifamily Advisory Group is an 85-person investment sales team covering 11 states with No. 1 multifamily market share in that region based on sales volume and transactions reported to CoStar. Per Cushman & Wakefield, in 2021, the group closed $13.8 billion in sales volume through 429 deals and nearly 85,000 units.