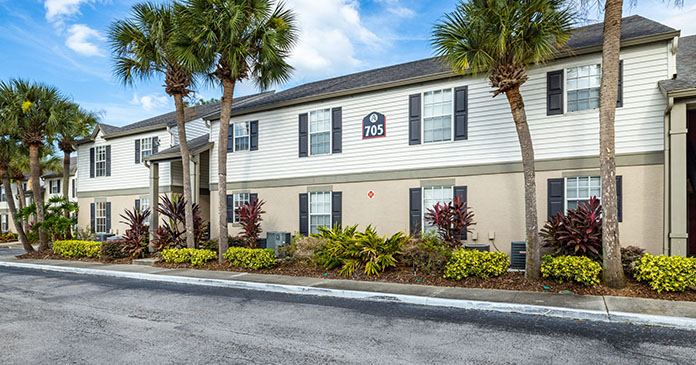 Trion Properties, a multifamily investment sponsor and private equity real estate firm based in West Hollywood, California and Miami, Florida, has acquired Altamonte at Spring Valley, a 250-unit luxury multifamily community in Altamonte Springs, Florida, a submarket of North Orlando for $49.1 million.
Altamonte at Spring Valley is Trion's second acquisition in Florida, following the firm's 2021 acquisition of Patterson Court, a luxury apartment community in Orlando. The team has been actively pursuing opportunities in the desirable Florida market and aims to rapidly expand their presence in Southern states over the next several years, according to Max Sharkansky, Managing Partner at Trion Properties.
"By utilizing our strong 16-year track record of successful multifamily investments, we were able to obtain a favorable purchase price and close the deal smoothly and quickly," explains Sharkansky, who notes that the acquisition of Altamonte at Spring Valley brings Trion's Southeast multifamily portfolio to more than 1,230 units in just over six months since entering the region. "We purchased the property well below the average price in the submarket, making us ideally positioned to generate a substantial profit by enacting our proven value-add program."
The property is on the south side of the Altamonte Springs submarket, a 15-minute drive from downtown Orlando and within a 20-minute drive of more than 36 million square feet of office space, notes Mitch Paskover, Managing Partner at Trion Properties.
"We are seeing rapid job growth in Orlando, which has been double the national average over the past 5 years and is projected to continue at approximately 2.5 times the national average over the next 5 years," says Paskover. "Driving this employment is a growing list of major corporations and technology tenants that have opened or expanded facilities in the area, making the area particularly appealing to professionals."
Marley Dominguez, Director of Acquisitions at Trion Properties, adds: "Altamonte Springs is unique within the North Orlando submarket for the large number of renters despite the affluence of the area, making this a unique opportunity to implement value-add enhancements that will meet the expectations of renters in the area and in turn increase values."
Trion will implement a value-add strategy and renovate the property to be a best-in-class asset, with market rents at comparable properties indicating an opportunity to achieve significantly higher market rates upon completion of renovations.
"Previous ownership focused primarily on curing deferred maintenance, minor exterior renovations and an incomplete suite of interior upgrades," continues Dominguez.  "All of the unit interiors were partially renovated more than seven years ago, leaving only a few remaining items to be updated in order to bring the property to market value. We also see significant opportunities to improve landscaping, paint the dated exterior, and update several dated amenities such as the pool deck, playground, and additional BBQ areas."
Constructed in two phases in 1974, Altamonte at Spring Valley consists of 250 one and two-bedroom apartment units averaging 924-square feet with open floorplans. The community is currently 99 percent leased and is comprised of 29 two-story wood framed buildings, as well as a two pool decks with BBQ grills and cabanas, a sports and tennis court, fitness center, and dog park.
Altamonte Springs offers residents ample employment opportunities, ease of transport, good schools, and access to downtown via I-4. The property is in close proximity to Crane's Roost Lake, which is encircled by one mile of continuous walkway with benches and covered seating areas.
Within the 45-acre park is a European-style plaza including a choreographed fountain show, a 62-foot picturesque tower and the Eddie Rose Amphitheater which features stadium-style seating and a one-of-a-kind floating stage. Residents can also enjoy easy access to Uptown Altamonte Springs, the city's premier business and urban residential district, which offers an abundance of residential, retail and dining offerings as well as office space.
Altamonte at Spring Valley is located at 693 Wymore Road in Altamonte Springs, Florida.
Ryan Moody, Scott Ramey and Paul Grant from Newmark represented the seller in this transaction.