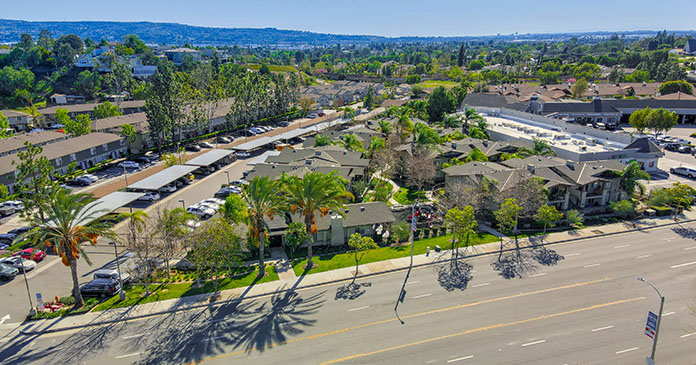 Avanath Capital Management, LLC, a multifamily owner and operator that focuses on market rate and affordable housing, announces its recent acquisition of Yorba Linda Palms (The Palms), a 44-unit family-oriented multifamily community in Yorba Linda, California, for $11.1 million in an off-market transaction.
According to Daryl Carter, Founder, Chairman and CEO at Avanath, The Palms serves qualifying residents at 30-50 percent of AMI, delivering much-needed affordable housing for low and middle-income families in an area of Orange County where market-rate rents are high, and demand is strong.
"This acquisition aligns with our strategy of investing in affordable housing in underserved markets throughout the country, where finding budget-friendly housing is challenging to many families," says Carter. "Known for its historic charm, Yorba Linda is considered one of the most affluent cities in Orange County, which boasts the 6th highest area median income (AMI) in California and the highest AMI in Southern California at $119,000."
The Palms marks Avanath's fifth purchase in Southern California and its fourth in Orange County within the last 12 months. The firm recently acquired St. John's Manor, a 36-unit affordable senior housing community in Costa Mesa; The Overlook at Anaheim Hills, a 261-unit senior housing community in Anaheim; and The Grove Senior, an 85-unit senior housing community in Garden Grove. Avanath now has 2,267 units under management in Southern California, which provides the company with economies of scale in the region, according to John R. Williams, President and CIO at Avanath Capital Management.
"By leveraging broker relationships and practicing proactive communication with owners and developers, we were able to acquire an off-market asset in an area where the affordable housing supply is limited and there is a significant barrier to entry for both developers and would-be homeowners," adds Williams.
Built in 2006, The Palms is located a half-mile from the iconic Richard Nixon Presidential Library and within walking distance from a variety of retail and restaurant options. The property has been consistently occupied at 100 percent and maintained rent collections during the COVID-19 pandemic.
Avanath plans to continue several in-place social impact programs for residents at The Palms, including classes in financial literacy, English and writing, and computer proficiency. COR Community Development Corporation will work as Avanath's non-profit partner in the ownership structure and provide social services to residents. Additional programs will be incorporated based on the community's specific needs.
"Social programs are a key element of our strategy to help residents of our communities to continually strive for a higher quality of life," says Williams. "These programs, implemented in partnership with notable organizations like COR, provide residents with assistance in improving their lives in a multitude of ways."
The Palms consists of five two-story garden style residential buildings featuring eight two-bedroom units, 36 three-bedroom units, a single-story office, and a clubhouse and resident center. In-unit amenities include air conditioning and a walk-in closet, while community amenities include a club room, tot lot and playground, courtyard, on-site parking, and central laundry facilities.
Avanath also plans to execute a series of capital improvements to the property, including replacing major mechanical systems, roofs, HVAC systems, and boilers as needed.
The Palms is located at 18542 Yorba Linda Blvd, Yorba Linda, California.