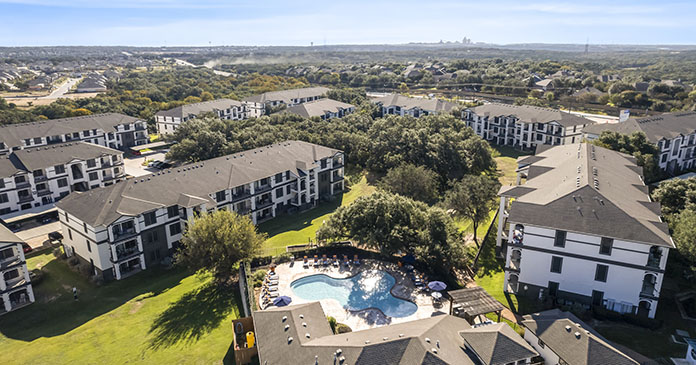 Multifamily investment firm DB Capital Management (DB Capital) has made its second acquisition in San Antonio with the purchase of ReNew TPC, a 408-unit garden-style multifamily community. The Los Angeles-based firm entered the San Antonio MSA last November with its acquisition of Salado Springs, a 352-unit multifamily community in the north central area of the city.
Built in 2007, ReNew TPC offers a mix of studio, one-, two-, three- and four-bedroom apartment homes across 18 three-story residential buildings. The property is centrally located near some of the largest employers in San Antonio, including JP Morgan Chase Corporate Center, Sonterra Medical Center, South West Airlines HQ, RidgeWood Park, and several Amazon fulfillment centers.
"ReNew TPC's large mix of floor plans makes the community desirable to virtually any potential renter in the market," said DB Capital CEO Brennen Degner. "It represents a unique opportunity to acquire a desirable garden-style asset in an exceptional location below replacement cost. One of our primary investment goals is to significantly increase the size of our portfolio in San Antonio over the next 24 months, so we can take advantage of economies of scale to create value for our residents and investors."
DB Capital plans to upgrade unit interiors  aimed as well as improvements to common areas and exteriors. The renovations will provide current and future residents with a living experience that is comparable to newer communities in the market, but at a more competitive price point, according to DB Capital Regional Vice President Hunter Graul.
"Texas' economy continues to gain momentum following the pandemic, drawing increasing numbers of new residents looking for a lower cost of living and improved quality of life," Graul said. "This well-located property will benefit from the significant tailwinds of increasing demand and limited supply of quality multifamily rental homes in the market."
The property was 95 percent occupied at closing.
Newmark represented both DB Capital and the seller.