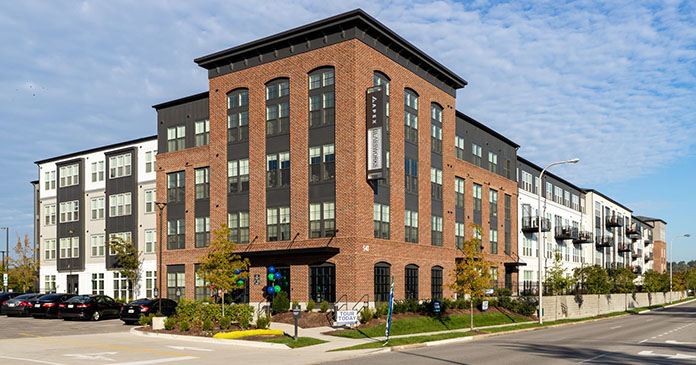 Newmark announces the $93.6 million sale and $69 million financing of Apex Glassworks, a 282-unit, recently constructed multifamily community located in Metrocenter, a fast-growing infill submarket in the heart of Nashville. The property traded from seller, Alpha Capital Partners, a Pittsburgh-based real estate private equity firm, to buyers, Invictus Real Estate Partners LLC (Invictus) and Jonathan Leifer of L3C Capital Partners (L3C), both New York-based real estate private equity companies. The buyers have rebranded the asset, Glassworks. At the time of sale, the Class A+ property was 94 percent occupied.
Newmark Managing Directors Tarek El Gammal and Vincent Lefler represented the seller and Vice Chairman Purvesh Gosalia secured financing through lender, PCCP, on behalf of Invictus and L3C.
"It was a pleasure working with both parties to deliver a smooth transaction. A true win-win scenario, our client, Alpha Capital Partners, realized an exceptional outcome and it allowed the buyers to enter a hot market with a high-quality asset at an attractive basis," said El Gammal.
"Newmark was able to secure a new lending source, PCCP, and close a floating rate bridge loan with better than market terms," said Gosalia. "This is Invictus and L3C's first asset in Nashville, as they look to expand their footprint in the Southeast. We are all delighted with this outcome as their introduction to the region."
Apex Glassworks is in the heart of the mixed-use development, Metrocenter. This highly sought-after location is minutes from 150,000 downtown jobs, including those at Amazon and Oracle, two of the most significant job announcements in Nashville history. Metrocenter boasts 1.3 million square feet of retail space and 3.4 million square feet of office space, making it an ideal alternative to the urban core.
Constructed in 2020, Apex Glassworks features a spacious courtyard, saltwater pool and sun shelf, updated fitness center, bike storage and a repair shop and multiple off-leash pet parks. The luxury units offer gourmet kitchens with large islands, single-basin sinks, and plank flooring.