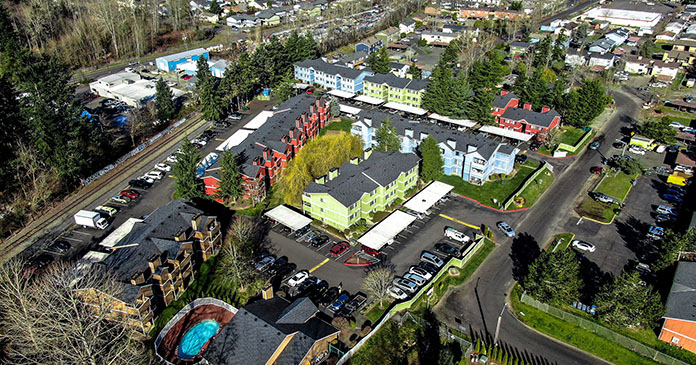 Coventry Court IV Apartments, a garden-style apartment totaling 100 units located at 908 76th Street Court East in Tacoma, Washington, sold for $21,150,000 in an on-market sale by Kidder Mathews. The seller was an active Puget Sound investor, Goodman Real Estate.
Brandon Lawler, Dylan Simon, and Jerrid Anderson of The Simon and Anderson Team, a multifamily investment team based in Kidder Mathews' Seattle headquarters, represented the seller in the on-market sale. Kidder Mathews was the only broker involved in the transaction. The buyer was Jordan Fisher with Next Wave Investors, and the transaction involved a loan assumption from the seller to the buyer. A separate 20-unit property, Coventry Court Annex, sold for $3,450,000 to the same purchaser and was also brokered by Kidder Mathews.
Coventry Court was built in 1990 and still has classic interior finishes. A sale price of $212,000 per unit proves the continued demand for properties in Tacoma. The value-add acquisition was an ideal fit for the buyer, an extremely experienced West Coast investor in a 1031 exchange.
"We want to thank the seller and buyer for an extremely smooth transaction," said Lawler. "Having experience on both sides of the transaction was very important for the loan assumption process, and we are excited to see what the buyer has planned for the Coventry Court Apartments."