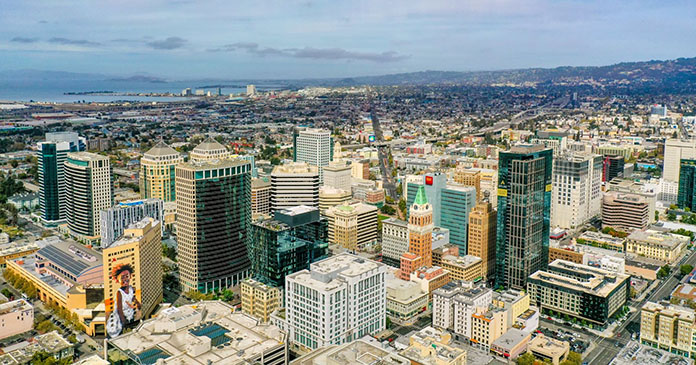 Levin Johnston of Marcus and Millichap, one of the top multifamily brokerage teams in the U.S. specializing in wealth management through commercial real estate investments, has successfully directed the $69 million acquisition of a 13-property portfolio totaling 290 units in Oakland and Berkeley, California.
This acquisition was part of a complex 1031 exchange through which Levin Johnston identified an opportunity for the buyer to exchange a 102-unit property in Concord and a 65-unit property in Belmont for a 290-unit portfolio with significant upside, according to Adam Levin, Executive Managing Director, and Robert Johnston, Senior Managing Director of Levin Johnston, who represented the buyer in this transaction.
"These transactions demonstrate our proven ability to serve as trusted investment advisors for our clients by helping them generate long-term wealth through strategic property trades," said Johnston. "The 13 assets in the portfolio range in size and benefit from their location in Alameda County, demonstrating our ability to source strong deals in a growing market. By recognizing an opportunity to take advantage of a 1031 exchange, our client will benefit from a diverse portfolio as well as increased long-term cash flow and income."
During the pandemic, many employers relocated to the East Bay. For example, Fivetran, a fast-growing data integration start-up, recently moved their headquarters to Oakland. Established companies such as PG&E Corp., parent company of Pacific Gas and Electric Co., are also making the move from San Francisco to Oakland, citing substantially lower headquarters costs over a long-term period. Additional companies are following suit, increasing renter demand throughout Oakland and Berkeley.
Office building development in the Oakland area is also fueling investor confidence. Houston-based Hines Development, which developed Salesforce Tower across the bay, is planning a 622-foot-tall office tower in downtown Oakland that could be the tallest skyscraper in the city.
"The large, planned office developments and influx of jobs to the Oakland and greater Alameda County area displays a confidence in the long-term growth and stability of the market. This will ultimately position the buyer to benefit from the strong rental demand that will occur as a result of the increase in population and employment opportunities," Levin adds.
The properties included in the portfolio are:
650 E 17th Street, Oakland, CA
1826 Alcatraz Avenue, Berkeley, CA
629 E 19th Street, Oakland, CA
734 E 20th Street, Oakland, CA
2518-2530 35th Avenue, Oakland, CA
475 Alcatraz Avenue, Oakland, CA
1590 Oregen Street, Berkeley, CA
1925-1935 10th Avenue, Oakland, CA
1626 Dwight Way, Berkeley, CA
1917 6th Street, Berkeley, CA
1924 9th Avenue, Oakland, CA
1934 9th Avenue, Oakland, CA
6433 Telegraph Avenue, Oakland, CA
"Strategically located, multifamily assets with strong value-add potential can be a rare find in this highly competitive, sought-after market," says Levin. "By guiding our client through the complexities of this exchange and leveraging our proven reputation and relationships in the area, we were able to successfully facilitate the trade up from their two existing multifamily properties into a diverse, 13-property portfolio that will deliver deep value for years to come."