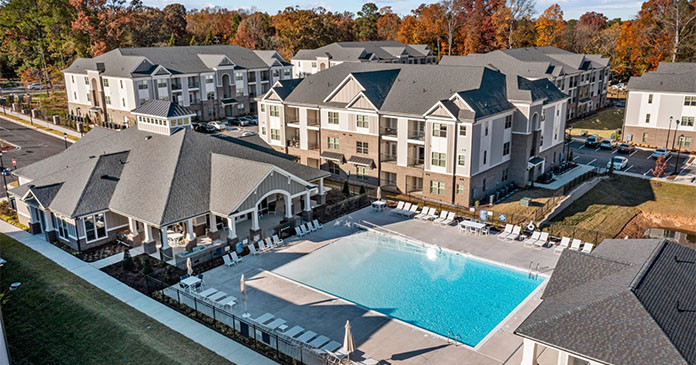 Magma Equities (Magma) has acquired the recently completed Litchford 315 Apartments, a 240-unit multifamily community in Raleigh, North Carolina, in an $83 million off-market transaction. This represents Magma's fourth apartment investment of the year in North Carolina and the firm's ninth overall in 2022, which nearly equals its total investment volume in 2021.
"We continue to be bullish on the multifamily sector overall given supply and demand dynamics, especially in Sunbelt markets like the Carolinas that offer a winning combination of job growth, attractive climate and relatively low cost of living," said Magma Founder and Managing Principal Ryan Hall. "This Raleigh acquisition, our largest single investment in North Carolina since we started buying here in 2018, is another example of how we are diversifying our portfolio to include more long-term-hold core assets to complement our value-add strategy."
Completed in January 2022, Litchford 315 consists of one-, two- and three-bedroom apartment homes housed in 10 three-story residential buildings on a 14-acre site. Community amenities include a clubhouse, resort-style swimming pool, a state-of-the-art fitness center a billiards and gaming lounge, and a dog park.  Litchford 315 was 96 percent leased at closing.
"Raleigh is one of the three fastest growing metros in the country, and as demand reaches new heights, occupancy and rent growth will continue to climb," added Magma's Director of Asset Management Chris Herrlinger, who heads up the company's new regional office in Charlotte. "We believe in the long-term viability of the Raleigh multifamily market and are well positioned to continue building off the momentum we started four years ago with a goal to create a sizeable portfolio here."